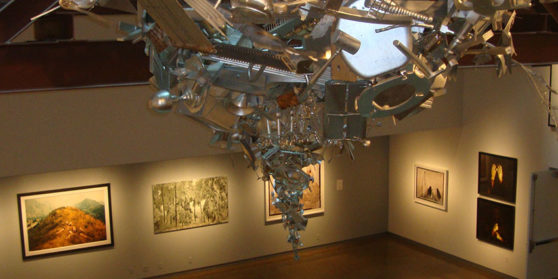 Founded in 2006 by philanthropists and contemporary art collectors Laura Lee Brown and Steve Wilson, 21c Museum Hotel Louisville is a testament to the power of art in communities.
A new idea
Troubled by development encroaching upon rural Kentucky's farmlands, philanthropists and contemporary art collectors Laura Lee Brown and Steve Wilson sought to reverse the trend toward suburban sprawl by making a considerable contribution toward revitalization efforts in their hometown. Pairing this desire with a second of their passions, to make contemporary art a part of more peoples' daily lives, the couple embarked on a journey to create both an economic driver for the community and an oasis where art challenges and amuses, stimulates conversation and provokes new ideas.
Put into action
The pair partnered with world-renowned architect Deborah Berke to reimagine and renovate a series of 19th-century tobacco and Bourbon warehouses along downtown Louisville's West Main Street into a boutique hotel and a contemporary arts museum. Could art and commerce coexist in harmony? Brown and Wilson trusted their intuition and sought to test their theory.
In 2006 they opened Louisville's 21c Museum Hotel. Much more than a place to spend the night, 21c is an innovative union of authentic Southern hospitality, thoughtful design and accessible luxury — all anchored by world-class contemporary art by today's emerging and internationally acclaimed artists (hence the name, paying homage to the 21st century).
A museum as alive as its art
21c Louisville quickly grew from novel idea to a modern epicenter for culture, activity, and artistic expression. With rotating exhibitions of works by living artists, site-specific installations, regular cultural programming and unique events, 21c visitors keep coming back and sharing the dynamic experience with friends.
Condé Nast Traveler magazine readers voted 21c Louisville among the TOP TEN HOTELS in the World in the 2009, 2010 and 2011 Readers' Choice Awards.
Becomes a smash success
The public embrace of 21c has been astounding. Local and national critics from publications such as Travel + Leisure, The New York Times, Wall Street Journal, National Geographic Traveler, and W took note and applauded 21c Museum Hotel's unique experience.
Whether visitors come to take in the latest exhibition or head out for an adventure along the Urban Bourbon Trail or the rolling hills of Horse Country, 21c hopes guests will explore all Kentucky has to offer.