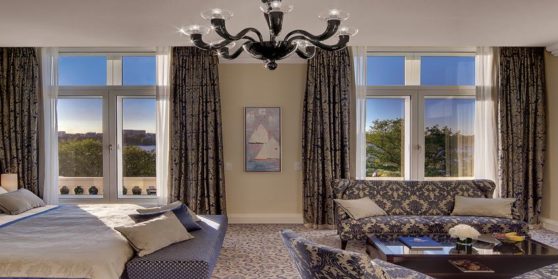 In its own unique way, five-star Hotel Atlantic Kempinski Hamburg unites the traditional and the modern, representing, now more than ever, exquisite grand-hotel style with European flair in the centre of the vibrant metropolis of Hamburg.
Located directly at Alster Lake, with a bright column-lined courtyard, the hotel has served as a calm oasis in the vibrant city of Hamburg since its opening in 1909, At the same time, the accessibility and central location make it to a great hotel for a city break.
Experience attentive, individually tailored, five-star service and fascinating luxury: luxury that is defined by your personal needs.
Feel the typical Hanseatic Noblesse and exclusivity in all 221 rooms and suites. The 13 meeting rooms with a ceiling height of 8 m (26.2 ft) provide the perfect scenery for unforgettable conferences and events. The Atlantic Restaurant offers a combination of modern German cuisine with regional and maritime cuisine, whilst the Energy Clinic Spa invites one to relax the spirit and mind with views of Alster Lake.
Tailor your stay to your liking and needs. The white castle on the Alster looks forward
to welcoming you.