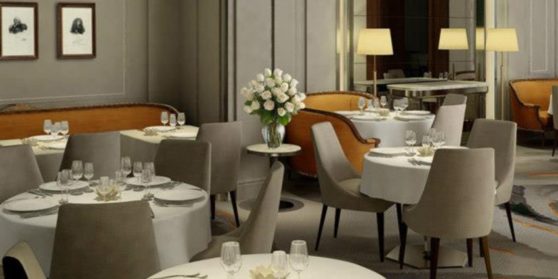 In 1925, Emile Wolf, a Swiss hotelier, buys the property to transform it into a luxurious hotel. Four additional floors are built between 1925 and 1928, and the works are completed in 1930. Until that year, Mr. Wolf and the General Housekeeper – whose parents were renowned antiquarians- enrich the hotel's art-work collections with Louis XV and Louis XVI furniture, and 18th century clocks called Cartels, paintings, chandeliers in Baccarat crystal. These exclusive collections represent the uniqueness of Hotel Lancaster, along with its intimate Parisian elegance.
The 56 accommodations are mostly situated around a beautiful courtyard that provides guests with a calm and peaceful atmosphere, the ideal place for lunch or dinner, afternoon tea or cocktails carefully prepared by the barman.
Inside, contemporary and traditional elements merge to create a harmonious balance; every detail has been taken care of to create a classic and elegant atmosphere. The Hotel Lancaster is incredibly rich in history.
The Hotel Lancaster honors the memory of three of the personalities who have marked its history: Marlene Dietrich, the siren of the Blue Angel, the hotel's founder Emile Wolf and the Russian painter Boris Pastoukhoff. A Suite has been dedicated to each of them.
With its grand piano, the Marlene Dietrich sumptuous Suite of 1076 square feet, is graced by a portrait of the German diva drawn by Joseph Von Sternberg himself. Decorated in shades of violet, the star's favorite color, the suite is a veritable gallery of memories. The furniture evoke the tastes of the nineteen-thirties, updated to the 21st century, like the sublime botanical lace that borders the pink-tinged wool rug, subtly recalling the couture ornaments of those heady years.
The Pastoukhoff Suite is an ode to its prestigious former occupant, the Russian painter who died in 1974 and whose paintings, with their refined harmonies, punctuate the hotel's walls.
Giving on to the courtyard garden, the Emile Wolf Suite offers a spacious living room and balconies from which guests can admire Sacré Coeur Basilica.
Today, the Lancaster remains a palace for discerning travelers; a hotel for those who prefer quality over ostentation and elegance over fashion.