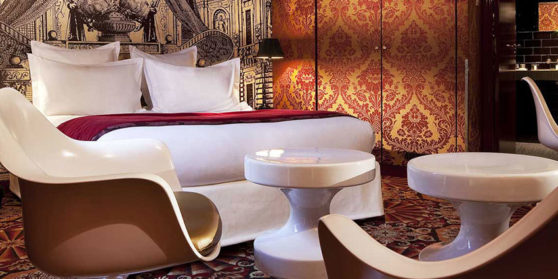 Concept

The Hotel du Petit Moulin is an authentic residence, decorated throughout by Christian Lacroix. With its location in the Haut Marais district, guests will discover a host of treasures.
This renowned 4-star boutique hotel gives guests the chance to discover each luxury room and suite's unique charm and character, each one more surprising than the last.

History

The hotel is located at the heart of Paris's third arrondissement, in the Haut Marais district, home to a host of historic treasures. From the 13th century, monks started to cultivate the marshes or "marais", which were ever-present during this period.
Later, during the 15th century, the King took up residence here, building the Saint-Pol Hotel. A real turning point in the district's history was the appearance of Place Royale at the start of the 17th century – the district's renown is almost entirely thanks to this square, now called Place des Vosges.

At the beginning of the 20th century, the district was transformed by the arrival of Central European immigrants in the Jewish quarter. It was then that a large number of fabric production workshops began to appear.
Rue de Poitou, where the Hotel du Petit Moulin is situated, is also steeped in history. Its name comes from one of France's former provinces, due to a project by Henry IV that was never carried out; to build a square called Place de France, with adjoining streets named after French provinces.
Today, it is an unmissable address for fashion gurus, for discovering new trends and reusing clothes in unique ways.

Location

Guests at the Hotel du Petit Moulin will be able to explore the famous Marais district in Paris's third arrondissement, surrounded by the Picasso and Carnavalet museums, Place des Vosges, the Opéra Bastille, some very famous art galleries, the trendiest fashion boutiques, restaurants, cafés and theatres.
The hotel is ideally situated for those looking to enjoy a luxury stay in an authentic, out-of-the-ordinary residence, while discovering the cultural and fashion treasures the surrounding district has to offer.