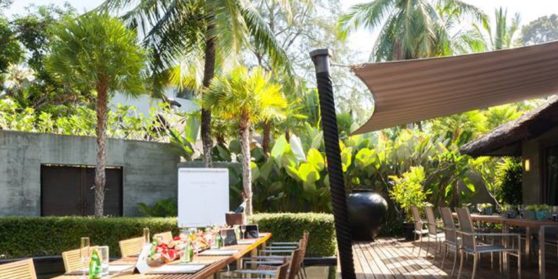 Discover an island of tropical breezes and lush rainforests and a resort steeped in the history of tin mining and sprawling rubber plantations. Voted as Asia's Leading Design Resort by readers of influential magazines and industry experts, Indigo Pearl Phuket has an international reputation for signature Thai hospitality and state-of-the-art facilities.
Established in 2007 as Phuket's leading luxury design resort, Indigo Pearl has ever since been famous for its service, style and grace. With 177 luxuriously appointed rooms, villas and designer suites, the resort also has eight restaurants and outlets including Rivet Grill, Indigo Pearl's fine dining restaurants; Tin Mine, serving international and regional delicacies; Black Ginger, serving traditional Thai cuisine, Underground Café; Côtémer Beach Club, serving ocean front feast and Tongkah Tin Syndicate, serving whiskies and rare drinks from around the world set in a distinctive setting. The Rebar and the pulley bar complete the picture. A hidden sanctuary that inspires the imagination; There is a phenomenal COQOON Spa, which opened in 2010 and cemented its reputation as being the first spa in Thailand to offer holistic health and lifestyle treatments within treetop cocoons. In addition, Indigo Pearl also has three outdoor swimming pools, two Adults only, a library centre, tennis courts, "TinBox" Kid's Club, a beauty salon and barber shop, a fully equipped health centre, function rooms and conference facilities and the regionally acclaimed Moo's s kitchen Thai Cooking class.
Major additions for 2010 include all 16 signature D-Buk Suites by the internationally renowned designers B. Bensely & J. Underwood. D-Buk Spa suite with en-suite spa, D-Buk Family Suite with extended family amenities are all part of the recent additions, while Indigo Pearl Phuket remains faithful to their signature hospitality and services.