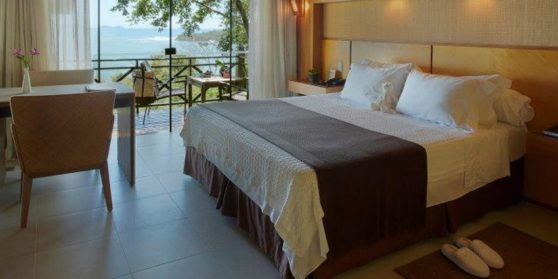 Ponta dos Ganchos is an adventure into the exquisite. A romantic hideaway where exclusivity and the feeling of being a very special person join forces to seduce anyone who is a guest at one of Brazil's most exclusive beach resorts.
The resort is in the municipality of Governador Celso Ramos, which is a region immersed in history. A small piece of old-time Brazil with its pretty little fishing villages, peopled by the descendents of the first Azorean immigrants to settle the Santa Catarina coast.
Extremely well located, Ponta dos Ganchos is just 40 km (24.85 miles) from Florianópolis and a short hop from São Paulo, Rio de Janeiro and Buenos Aires. The privately-owned peninsula is surrounded by the stunning waters of the Emerald Coast, guaranteeing total privacy. Comfort and relaxation are assured in every one of the 25 sophisticated and charming bungalows, some jutting out over the breathtaking spectacle of the myriad shades of green, where the rain forest meets the emerald sea. The Leading Hotels of the World seal of approval attests to the sheer comfort of the facilities, the commitment to quality and the high level of the services.
Ponta dos Ganchos offers a state-of-the-art fitness centre, cinema, business centre, restaurant, bar, lounge, games room, oceanfront ocean-front tennis court, heated swimming pool, massage gazebos, SPA and nature trails. In close proximity to the resort, one can also experience Arvoredo Island, the best site for scuba diving in South Brazil.
Additional boat trips include Anhatomirim Island and the Baía dos Golfinhos (Dolphins Bay).
Due to the nature of the peninsula and the need to preserve the calm and tranquillity that our guests demand, we welcome guests 18 years and older.