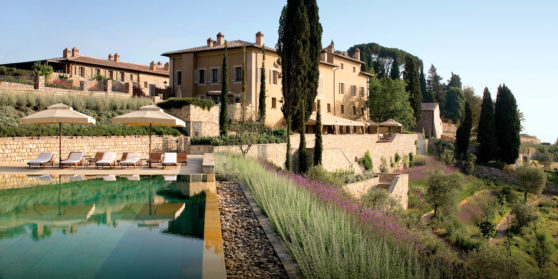 Rosewood Castiglion del Bosco is set within one of the oldest and best-preserved estates in Italy and is located in Montalcino, Tuscany, in the heart of the UNESCO World Heritage Site of Val d'Orcia.
Castiglion del Bosco is an 800-year-old estate comprising the ruins of a castle, a medieval church, and the Borgo, a village that was once an important farming and social hub. The Borgo now forms the heart of the resort and 23 suites are housed within its buildings. The resort also offers 10 villas which have been created from restored farmhouses with antique furniture, artisanal pieces and modern comforts.
Rosewood Castiglion del Bosco also offers a cooking school, a carefully curated store, an organic kitchen garden, a spa, an infinity pool and fitness center. Guests can choose to dine at two restaurants – the more rustic Osteria La Canonica or the understated Ristorante Campo del Drago which offers classic Tuscan and Italian cooking. The property is also a historic winery and the fifth largest producer of Brunello di Montalcino. The estate's breathtaking 18-hole golf course was designed by the legendary winner of the British Open, Tom Weiskopf. This prestigious course set within a UNESCO World Heritage Site offers an unparalleled playing experience in Italy's only private golf club.