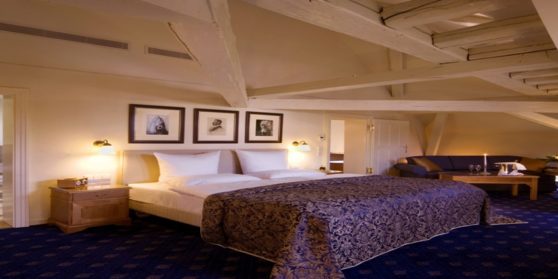 Live like a Royal and let yourself be captured by the classical ambience of Schloss Reinhartshausen Kempinski, a luxurious 5 Star superior hotel only a few minutes out of Wiesbaden.
Situated between the famous Rheingau Vineyards and the banks of the river Rhine, Schloss Reinhartshausen Kempinski in Eltville – Erbach is the ideal base to explore the UNESCO World Heritage site "Upper Middle Rhine Valley". It's only a few kilometres to the state capital Wiesbaden, Mainz and Frankfurt International Airport.
Luxurious living enhances the quality of life – one reason why Princess Marianne of Prussia acquired the castle in 1855. Schloss Reinhartshausen Kempinski offers 41 elegantly furnished rooms and 22 generous suites, some with whirlpool and a fire-place. The highlight is the "Mariannen" Suite (presidential suite) with a size of 110m². It is the largest and most luxurious suite named after Princess Marianne and offers stunning views over the castles private park, the river Rhine and the island "Mariannenaue". The hotel also gives you the opportunity to be a guest for a long stay while the concierge service takes care of all your needs. Relax in our bright wellness centre, where you can enjoy the indoor swimming pool, two saunas (95 and 55 degrees / 200 and 131 degree fahrenheit) or a pre-booked massage.
Culinary delights can be found in our two restaurants "Prinzess von Erbach" (fine-dining) and "Wintergarten" (local cuisine). Finish the day with a refreshing cocktail in our Summer Lounge or enjoy a glass of cognac in our bar and soak up the gorgeous atmosphere of the Rheingau region.
Head chef Felix Hafner welcomes you at any time of the year with a wide range of local and international delicacies served with wines from the hotels attached vineyard "Schloss Reinhartshausen" and other local and international classics. Just lean back, relax, enjoy the culinary ride and taste a few bites of this lovely region.
Hold your meetings, presentations and celebrations in one of the 15 historic function rooms and salons accommodating up to 300 guests. Take advantage of nearly 1.5 acres of private park and two terraces for your event location in style. Enjoy free parking and our helpful concierge service to make your stay even more convenient.