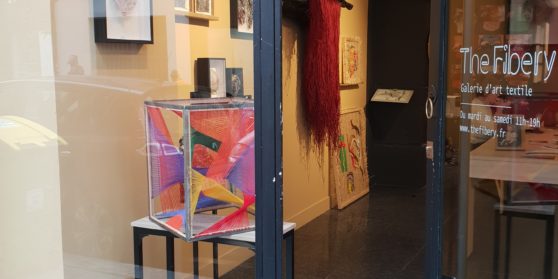 The Fibery features multidisciplinary and hybrid works from French and international artists : drawings, photos, paintings, sculptures… all with one common thread : the use of fiber through various technics. These include weaving – unweaving, embroidery, knitting, binding, braiding, bonding…
The gallery has a vocation to highlight fiber artists works, providing a constantly artworks and artists renewal.
The gallery is located in Paris, in the Haut-Marais area, in a street with many art galleries, restaurants and shops.
Notre dame de Nazareth street has a strong textile mind as it was part of the Sentier, an old fashion area.
Nearest of the gallery, the Dupperé School of Applied Arts and the Carreau du Temple, high cultural place where many contemporary art exhibitions are welcomed.
The gallery is an atypical place, with warm colors, sublimated by a brick wall and beams on the celling.
In the centre of the hall, there is a long table which invites to sharing.