Troels Carlsen's The Remains of Disappearance at Fondazione Aldega
An interesting collaboration between artists of the past and an artist of the present will soon be on display at Fondazione Aldega in Amelia, Italy. New solo show by Troels Carlsen titled The Remains of Disappearance consists of twenty acrylic artworks painted on mortuary drawings dating from the 18th and the 19th century. The Danish artist known for decorating the pages of anatomy books, old photographs or newspaper clippings with his unique images, in his latest body of work honors the old craftsmen while adjoining figures to the original Master Drawings.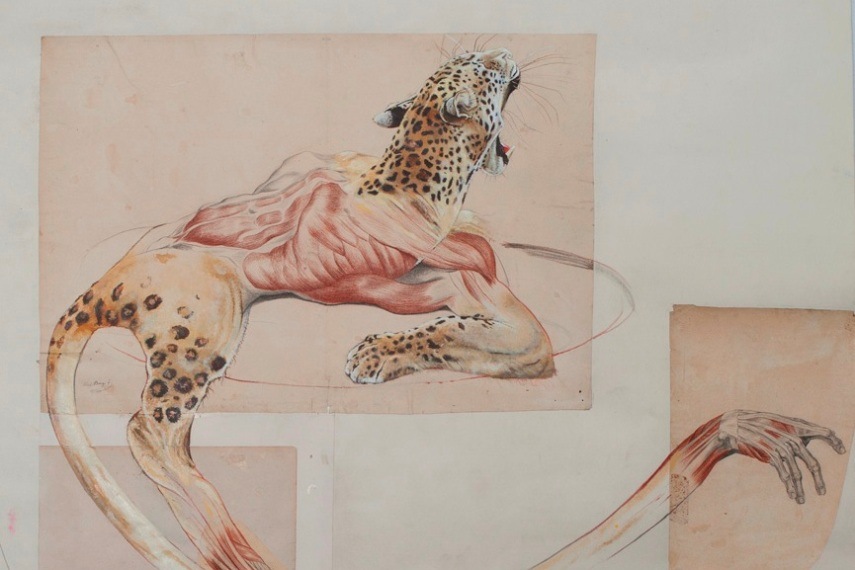 Adding Life to Mortuary Drawings at The Remains of Disappearance Exhibition
The Remains of Disappearance exhibition's conception was initiated by Marcello Aldega, founder of Fondazione Aldega in Amelia. He had provided Troels Carlsen with the 18th and 19th century drawings that he had collected over many years. Anatomy drawings can be viewed as artworks themselves because they represent a detailed study of the human body with a realistic portrayal of tendons, muscle and flesh. Troels Carlsen warps the anatomical illustrations with color and energy adding a touch of humor into once grotesque images. Animal and human subjects are painted within and on top of the sketches giving the new life to the drawings of the dead. Troels Carlsen skillfully makes the old pieces into contemporary art by depicting the magic that lays between life and death and creates vivid optimistic imaginary far from its morbid source.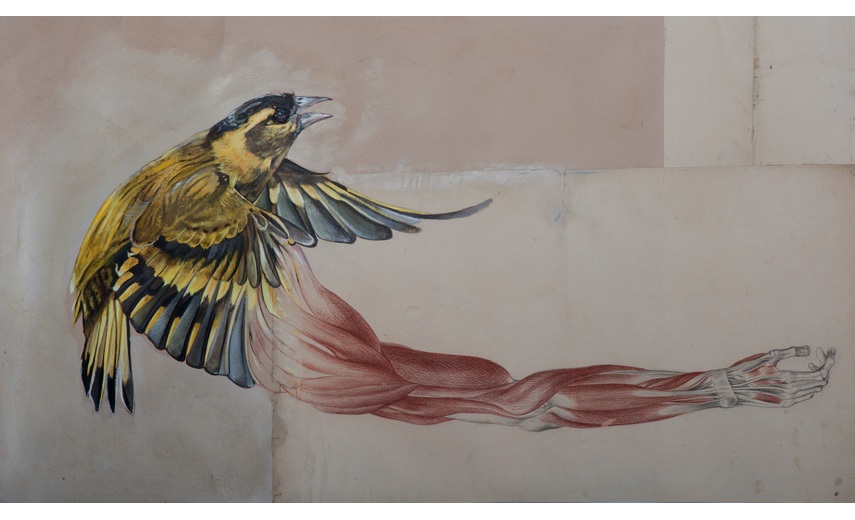 Anatomy Amended by Troels Carlsen
Troels Carlsen was the perfect choice for The Remains of Disappearance exhibition's concept having portrayed before many art pieces that dealt with life, death and the anatomy of living beings. The painter has worked before on anatomy books, found objects, vintage prints and etchings but this is the first time he has painted on original Master Drawings. Troels Carlsen pays tribute to the artisan of the past and doesn't subtract from their work but simply adds new components to their sketches and makes both old and new elements pop up in the surface. His artworks are full of juxtapositions between humor and tragedy, violence and calmness, past and future. The adorable animals painted on the drawings add a notion of playfulness reminding us that life is lived even when death is present.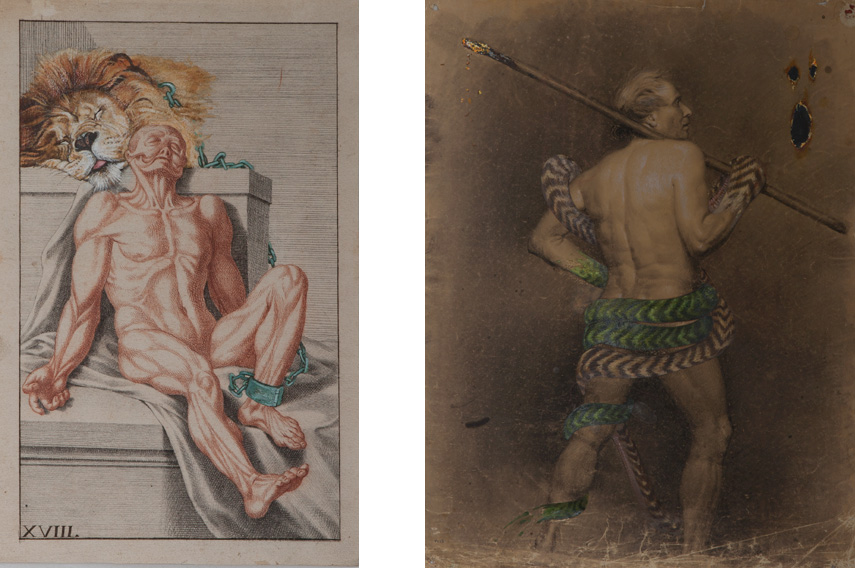 The Remains of Dissappearance at Fondazione Aldega
Troels Carlsen's The Remains of Dissappearance exhibition is organized by Fondazione Aldega in cooperation with V1 gallery in Copenhagen and it will be the first solo exhibition in Italy for the Danish artist. The exhibition of acrylics on 18th and 19th century drawing will open on June 12th at Fondazione Aldega in Amelia and will run till July 30th 2015. The entrance for the visitors will be free on Fridays, Saturdays and Sundays from 10 am to 1 pm and from 4 pm to 7 pm.
Follow the artist from the past and the present by signing up for My Widewalls.
All images courtesy of V1 gallery