Ugo Rondinone Creates the Biggest Land Art Exhibit in the Past 40 Years
We have great news for all art lovers who are fans of land art, and public art as well. Works of Ugo Rondinone and his land art have been exhibited in a desert near Las Vegas, Nevada. A number of big colorful sculptures and figures have been put in the middle of Nevadan desert, in what has already been described as the biggest land art exhibition in the past forty years! The exhibition is titled Seven Magic Mountains and it took five years for the project to get into place. These stunning land art sculptures were made from the local stone, while their fluorescent colors perfectly shine in Ivanpah Valley, between Las Vegas and California.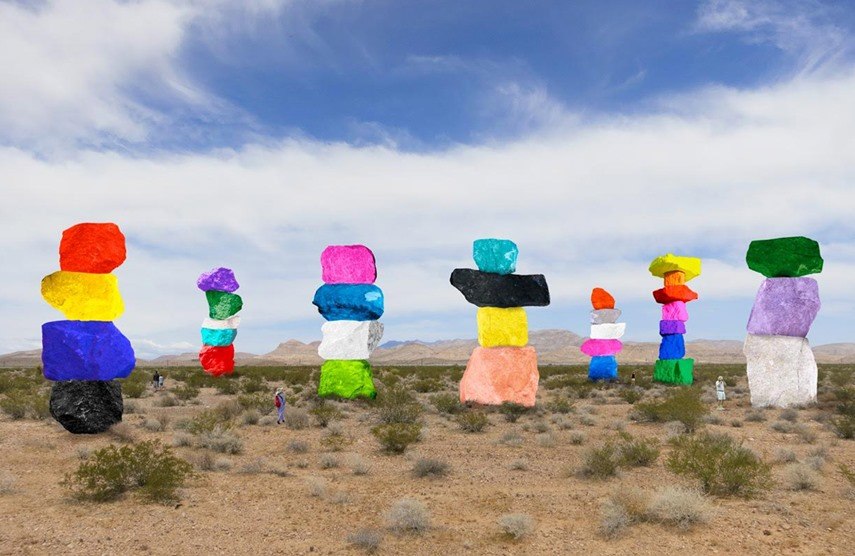 Seven Magic Mountains
Everybody was quite excited in the last couple of days waiting for the "opening" of the exhibition. The Ugo Rondinone land art sculptures have brought together philanthropists, art enthusiasts and art lovers from across the United States, as it was already announced it was going to be the biggest land art exhibit in decades. The work is presented by the Art Production Fund and Nevada Museum of Art, and was made by locally-sourced limestone boulders. The boulders are stacked vertically in groups ranging from between three and six rocks. Each stone sports a different fluorescent color and heights range from 30- to 35-feet high. These seven huge land art sculptures are inspired by Utah's hoodoos and precariously balanced rock formations. Precisely because of that, Ugo Rondinone decided to put his artworks in a desert, in the middle of nowhere (actually, it only appears to be in the middle of nowhere; the location is a 20 minutes ride from Las Vegas). It seems that Nevadan desert attracts land and contemporary artists, since not far from the location of the Seven Magic Mountains there is a famous Jean Dry Lake where Jean Tinguely and Michael Heizer created famous sculptures.
Ugo Rondinone Land Art Sculptures near Las Vegas
Ugo Rondinone Land Art
Ugo Rondinone is a Swiss artist who lives and creates in New York. He describes himself as a multimedia artist, and he is best-known for his intervention in nature and environment. What is in focus of his artistic practice is actually the interconnection between humans and nature. That is why Rondinone considers broader context as well when it comes to the Seven Magic Mountains. As the artist says: You cannot ignore Las Vegas. You have a contrary air between the city lights and the natural setting of the desert. What fascinates me is the silence. He also adds: The work elicits continuities and solidarities between human and nature, artificial and natural, then and now, according to a statement from the artist. Officials from the Nevada Museum of Art say that Seven Magic Mountains will stay in this location for the next two years. If you want to visit this remarkable land art exhibition, drive the I-15 corridor from California to Las Vegas (or vice versa), and you will see a sign indicating the exact location of the Seven Magic Mountains.
We would like to hear your opinion! Please comment on our Facebook Page
Featured Image: Ugo Rondinone – Seven Magic Mountains (courtesy of paintthisdesert.com) Photos by PtD. All Images used for illustrative purposes only!