What if it's All a Lie? at 30works Galerie
Cologne based 30works Galerie are gearing up for the first solo exhibition by one of the stars of the German urban art scene, Van Ray. The urban artist was influenced very much by the Parisian 80s Pochoir Movement, with Pochoir translating as stencil and was originally used to describe the printing methods used with the Art Nouveau and Art Deco movements. From this, Van Ray has developed his distinctive style of urban art, incorporating stencils, stickers, sculptures and paste-ups, which will be on view in the new solo exhibition, What if it's All a Lie? with 30works Galerie in Cologne. Previous exhibitions presented by 30works Galerie include Cologne by Thomas Baumgärtel and the Dirty Works group exhibition of urban art.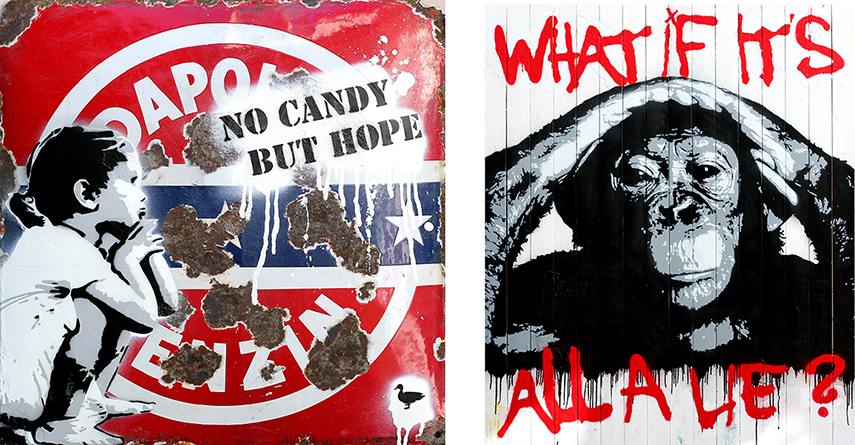 Van Ray Solo Exhibition
What if it's All a Lie? is a proud moment for 30works Galerie, presenting the first solo exhibition of Bonn based urban artist Van Ray, considered to be one of the most successful of the younger generation of urban artists in Germany. This first exhibition will highlight the distinctive style of Van Ray, fusing elements of pop and street art, created using a range of techniques including spray cans, acrylic paints, collage and décollage. Van Ray also uses What if it's All a Lie? to put across his commentary on our modern value systems, along with criticism of social injustices and our generally hedonistic contemporary way of life. The urban artist achieves this by creating his striking stencil art on found objects, such as wooden slats and sheets of iron, transforming the often iconic images from their original meanings. Read about the group exhibition Urban Art which Van Ray took part in, along with street artists Btoy, El Bocho and Biserama.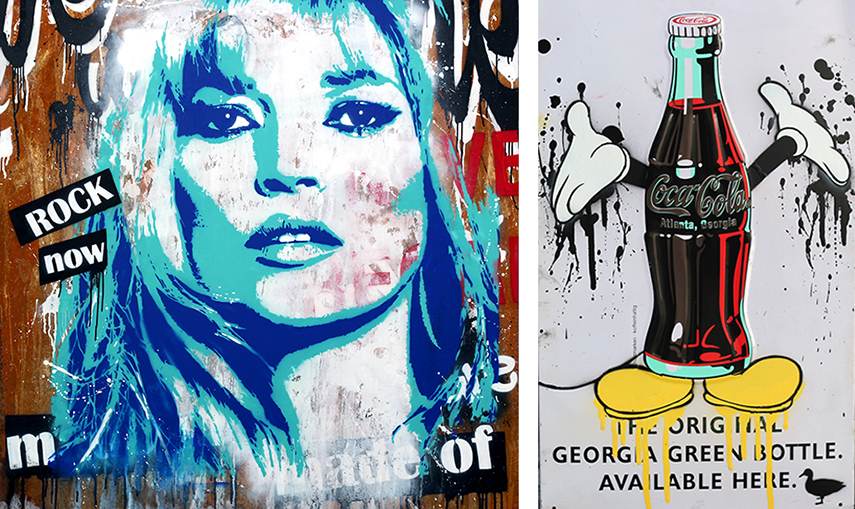 Stencil Art of What if it's All a Lie?
The stencil art to be found in the new Van Ray solo exhibition at 30works Galerie, demonstrates the urban artists love of processes. We find carefully constructed stencils, meticulous in their details to create perfect pop art imagery and then contrasted with the found objects they are painted on, the use of rusting techniques and the addition of drips from spray cans and paint, adding a gritty urban art feel to the works. Van Ray has employed the imagery of well-known brands such as Coca-Cola, Mickey and Minnie Mouse, along with the faces of people like Kate Moss and Scarlett Johansson, to question our values and how we want to live, essentially asking us, what makes us happy? For more stencil art check out the work of Blek le Rat, Strøk in Shadows on the Wall and how Sten Lex are using stencils in a slightly different way in their Paesaggi Industriali exhibition.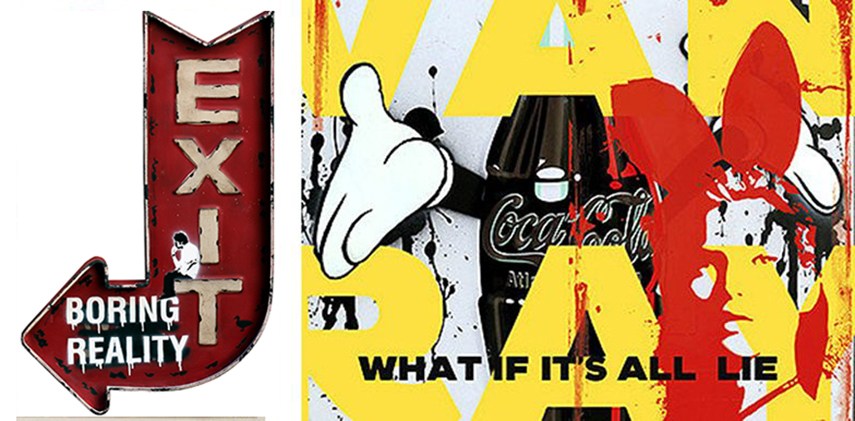 30works Galerie at Stroke Art Fair
30works Galerie will be hitting the Stroke Art Fair in Munich, Germany between 29th April and 3rd May, 2015. At Stroke Art Fair, 30works will be presenting the urban artworks of Van Ray, along with the acclaimed and striking stencil artworks of mittenimwald, whom you can read more about in mittenimwald – Mundo De Los Muertos and also AVone, an American urban artist who presented his The New Yorker exhibition with 30works Galerie. Watch a Widewalls video interview with the creator of Stroke Art Fair, Marco Schwalbe, in Widewalls at Stroke Art Fair, Marco Schwalbe.
What if it's All a Lie? by Van Ray opens at 30works Galerie, Cologne on 9th May, 2015 and runs through until 30th May, 2015. Opening reception is on 9th May, 2015 at 20:00hr.
For all the latest exhibition news sign up to My Widewalls today.
All images courtesy of 30works Galerie.
Follow These Galleries
Cologne, Germany

Munich, Germany