Artist Vermibus Invades Fashion Week to Fight Fire with Fire!
Berlin-based artist Vermibus is best known for his public art interventions and critical approach to dominant consumerist practices. With fashion industry as his main target, Vermibus deconstructs the dominant standards of beauty which are imposed on us from above, through an array of commercial advertising posters and fashion magazine images.
Vermibus is preparing his new art project entitled Unveiling Beauty which is one of the most ambitious artistic engagements for the Spanish artist to date. Organized in the collaboration with the Open Walls Gallery in Berlin, Unveiling Beauty brings Vermibus's signature style of artistic expression to a whole new level, delivering series of new public interventions during the course of the major Fashion Week events from New York and London to Milan and Paris. Once again Vermibus is more than ready to challenge the way we perceive pre-established and enforced notions of bodily beauty and our everyday consumption practices.
In the light of the new project, Vermibus talks about the Unveiling Beauty, the complex relationship between art and fashion industry, and main tendencies in his art practice.
Exploring the Connection Between Art and Fashion with Vermibus
Widewalls: The critique of the fashion industry is what became a synonym for your work. Why did you choose this particular subject over the other forms of consumerism?
Vermibus: My work is mostly a personal reflection about the pre-imposed beauty standards.
The fashion industry and by consequence the fashion advertising are the strongest voice in this unidirectional conversation regarding physical beauty that we —as citizens— are exposed to. Both fashion industry and fashion advertising have the most influential opinion regarding physical beauty in terms of how we have to dress, act or live. I think it's absolutely necessary to reflect on it.
Widewalls: The main tendency in your artistic practice is to "fight fire with fire" or to use the same advertising medium, but with altered content? Would you say that this approach makes your art more effective in addressing these important issues?
V: Using their tools to criticize their practices is a good way to democratize the public space and the message installed in there.
Installing a personal opinion or a critique inside the advertising media, like a bus shelter, is a way of transforming from a receiver to a sender. By doing that you are not only speaking to the citizens, but also to the markets.
Widewalls: For quite some time, we are witnessing the change in the fashion industry as many contemporary artists collaborate with major fashion houses and the designers are often making their collections more "artistic"? What are your thoughts on the current connection between art and the fashion market?
V: First of all we would have to differentiate the fashion design and the fashion market, same as the art and the art market.
I don't think there is any problem to collaborate between art disciplines, because art and fashion have always influenced each other.
The problem is when we talk about collaborating with markets. If the artist collaborates with the fashion market or the advertising market, his/her opinion could be affected by the limits that the market will set, so there is a huge risk that the opinion or the ethics of the artist are being omitted or modified.
Widewalls: Many celebrities have already been targeted by you in the past? Is there a specific method when it comes deciding who the subjects of your artworks will be?
V: When I'm choosing the images that I will work with I let myself flow with the sensations I have or the ones that those images make me feel.
I neither have a favorite photographer nor a model, mostly I use photography with a high level of retouching. It doesn't matter from who they are or what they sell, I don't only work on advertisings, I work on fashion photographs as well.
Unveiling Beauty Project
Widewalls: The "Unveiling Beauty" project follows the route of major Fashion Week events from New York to Paris. Would you say that it is one of you ambitious projects to date, as it will cover several locations in a relatively short period of time?
V: Without any doubt Unveiling Beauty is the biggest and most ambitious project I've been working on until today and needed more resourcing and planning than ever before.
As points of reference in the fashion industry, Fashion Weeks form and lay down specific standards of aesthetics and beauty, and market them via their advertising: just one more strategy in the globalization of Western consumer culture.
The beauty-cult is as firmly established on the catwalks of every Fashion Week as it is in the advertising they generate. The fashion industry uses the body as a tool in order to sell products which is to a certain extend the paroxysm of consumerism. The image of the body in advertisements limits and oppresses an individual's true beauty, concealing it behind the false rhetoric of its own liberation.
With Unveiling Beauty, I will reflect on this use of the body, and on standards of beauty imposed from above, via a series of public interventions within the framework of the Fashion Week circuit.
Widewalls: What else can you tell our readers about your new artistic engagement? Is your main technique staying the same or can we expect some surprises?
V: The dissolution with solvent is a very interesting technique not only because of the difference between one and another, but mostly for all the things that you can discover, even if the solvent is in almost every painter studio, almost nobody use it as the principal tool.
In those 4 years using it as the only tool I have discovered a lot of things about it, and the fact of knowing that there is nothing written about it is exciting, also because every single discovery offers a huge amount of new opportunities.
There is a lot to discover, so I will keep working mostly with solvent.
Collaborating with Open Walls Gallery And Future Plans
Widewalls: You seem to have a pretty good collaboration with the Open Walls Gallery. Is it because of their understanding of the nature of public art, therefore allowing artists to stay closer to their primary medium of expression?
V: My relationship is not with a gallery but with the people who work in it.
Guillaume is a person who not only helps me to make my projects happen or understand my work completely, the most important thing is that he understands the necessities of my work and of my personal life.
In the past 4 years we've been growing together by working hand in hand in a lot of projects and this creates a really strong bond.
Widewalls: What are the future plans for Vermibus or is it perhaps too early to ask?
V: I am now totally dedicated to my current project Unveiling Beauty.
Sign up for My Widewalls and enjoy our conversations with leading contemporary artists for FREE!
Unveiling Beauty Teaser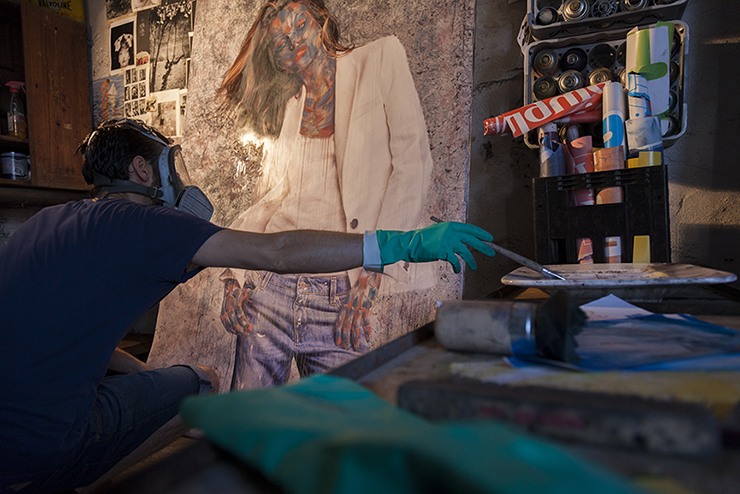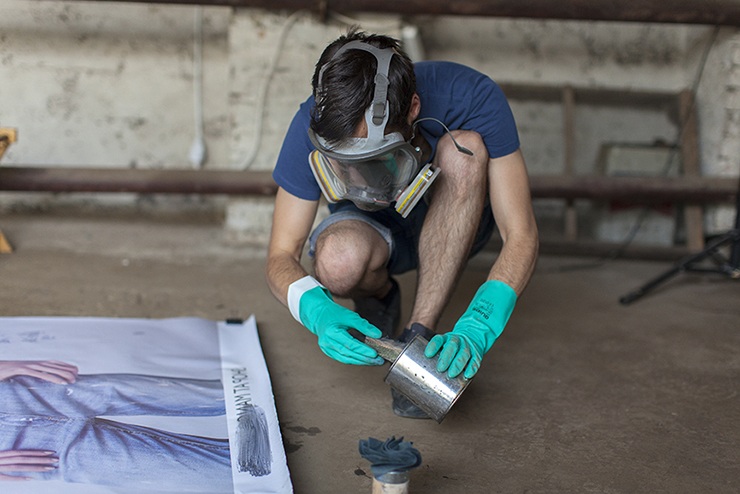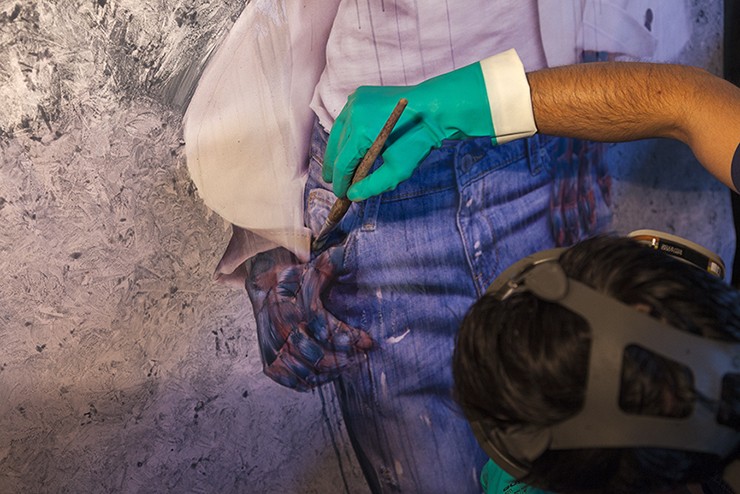 All images courtesy of the artist and Open Walls Gallery