Webby for Banksy
Last week, the 18th annual Webby Awards named Banksy the "Person of the Year" for his "art residency" called "Better Out Than In" in New York last October. However, at the ceremony hosted by comedian Patton Oswalt Banksy was a no-show, maintaining his signature air of mystery. Instead of appearing in person to accept the award and give a speech, Banksy submitted this acceptance video:
Better Out Than In
Last fall, Banksy left 31 works of art on the streets of New York. A new piece appeared each day during his month-long invasion of the Big Apple. At one point during the residency Banksy even sold small works from a vendor booth in Central Park for $60 each. "Although it took place entirely on the street, the show found its true resonance online, becoming less an art show than a citywide full contact game of hide and seek," the narrator in the video says, thus explaining why Banksy received the Webby. Banksy's "Better Out Than In" residency attracted a cult following. Webby officials said a particularly unique element of the running exhibition was that for most viewers "it existed exclusively online" with more than 350,000 people following Banksy's work in NYC on his Instagram account and website.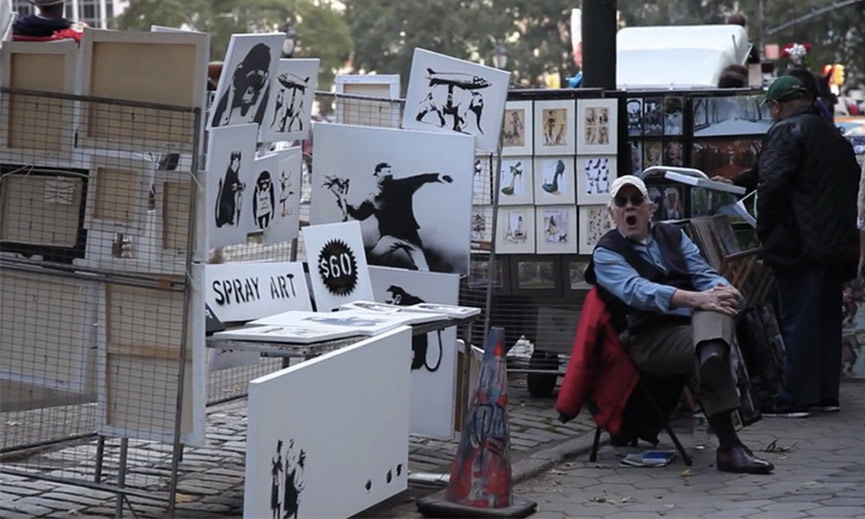 The Web's 25th Anniversary
The awards show also commemorated the Web's 25th anniversary. The Webby Awards is the leading international award honoring excellence on the Internet, including websites, interactive advertising and media, online film and video, mobile and apps, and social networking sites. Established in 1996 during the Web's infancy, The Webbys is presented by The International Academy of Digital Arts and Sciences, which includes an Executive 1,000-member body of leading Web experts, business figures, luminaries, visionaries and creative celebrities, and Associate Members who are former Webby Award Winners and Nominees and other Internet professionals. Judges selected this year's winners from among almost 12,000 entries from more than 60 countries.