WESR at Sketchmate Festival
Chieri, a small town outside of Turin, Italy, was taken over by a group of enthusiastic young people from Patchanka, a NGO oriented towards urban regeneration. In collaboration with the local authorities and through partnership with the Museum of Urban Art from Turin, an ongoing street art festival was founded, known as Sketchmate. Since the beginning, Sketchmate has had two successful editions, while the third one is starting this summer.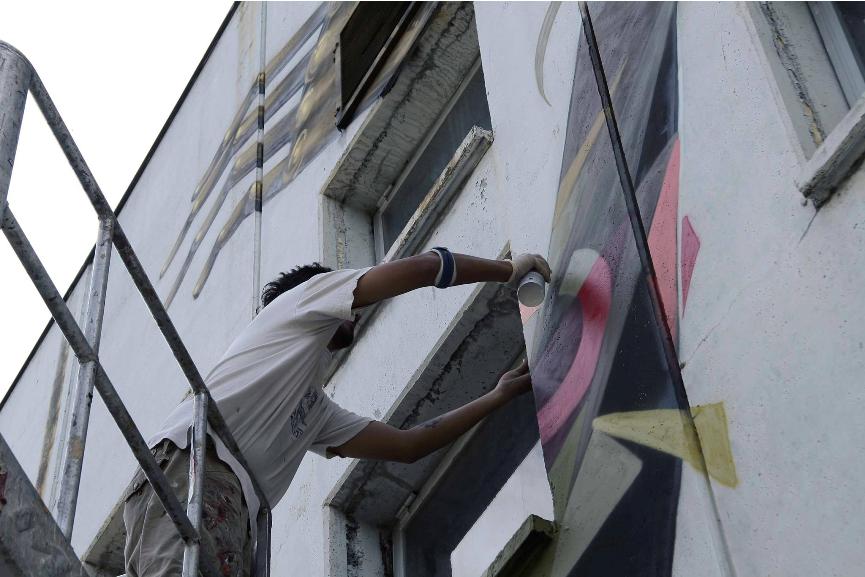 Middle School in Chieri
Wanting to transform a place into an integral urban work of art, Sketchmate staff chose an abandoned middle school in Chieri, which was to be demolished. Destiny of the deserted educational space was actually much better, and by the efforts and contribution of local and international street artists, it has already turned into a large creative workshop, and continuously growing public exhibition space. Today, an ex school is home to fantastic murals executed by some of the best artists in Europe, as well as to various installations, most of which were created with a constant presence of the public. Thousands of visitors, seven middle school classes, tens of artists from the entire Europe, all spiced up with concerts and movie projections, and followed by prestigious media is what the first 2012 chapter of Sketchmate festival was like. Sketchmate of 2013 introduced even more artists and new spaces in Chieri, including the former Tabasso factory, for many locals the place of work from the past and the symbol of sustainability.  The space became a significant cultural spot, with library and historical archive, as well as with an art gallery, a sort of museum in the open. 2014 Sketchmate edition promises an even more prolific summer.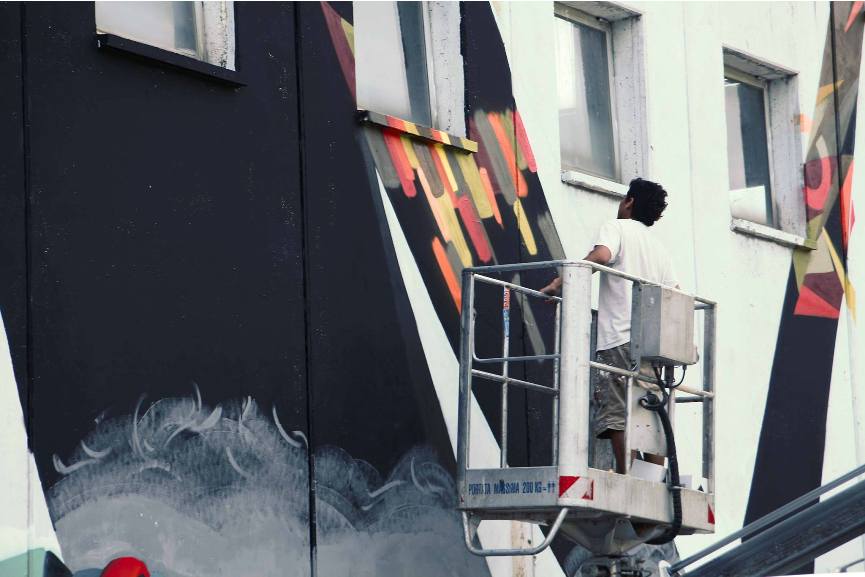 Sketchmate Artists
Sketchmate demonstrates how initiatives related to art and urban takeover are successfully turned into communal art and culture projects, which involve the community and promote active participation of the locals.
Some of the artists who have so far given their contribution to the Sketchmate project are Fabrizio Visione, KNZ, Massimiliano Petrone, ORMA, SCO Crew, Truly Design, Zorkmade, and most recently – WESR.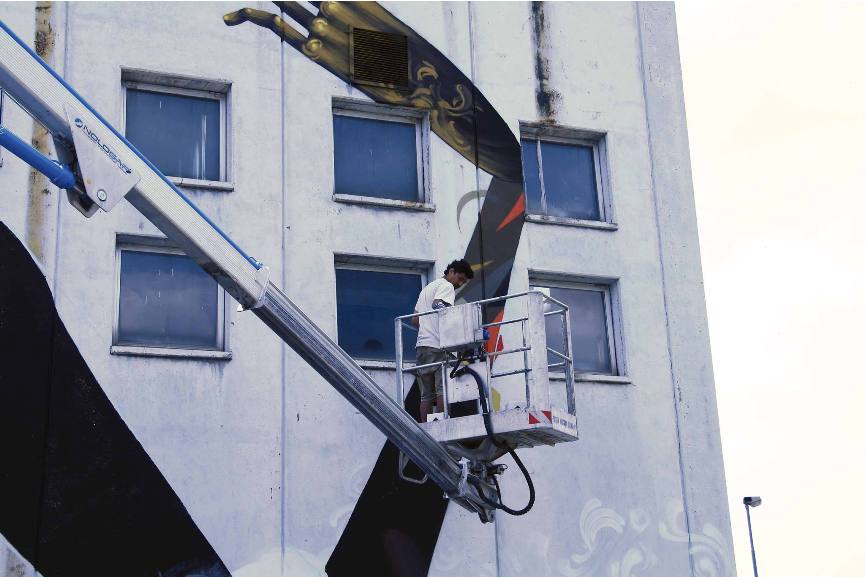 New WESR Mural
One of the latest additions to the old school in Chieri is a large mural done by a Berlin based artist WESR. He was invited to participate in the Sketchmate festival, for which he painted a large figure, pertinent to his eclectic style, infused with references to anime and indigenous Peruvian culture.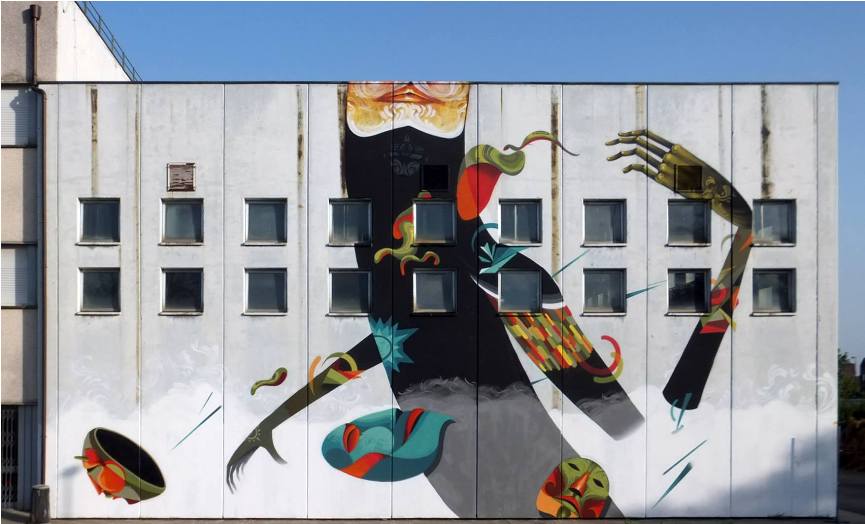 WESR
WESR is the moniker of Danny Figueroa, a 34-year-old street artist from Lima, Peru. He began writing graffiti in his hometown in 1996, while his style developed struggling to cope with two distinctive cultural influences. Ethnic traditions of Peruvian heritage were still very strong, but the strengthening Americanization of society through popular culture influenced his work as well. Combining the two very different visual systems, WESR composed his own original pictorial language, merging the traditional aesthetic values of his country with contemporary cartoons and graphic illustrations, particularly those from Japan. Manga and Inca combine well in his large scale murals and studio works alike, where drawing is the dominant base of the color-scarce or very lively creations of strange figures, imagined heroes, often masked and reminiscent of the early 20th century futurism or even art deco.
WESR relocated to Berlin in 2008, where he continues his prolific career, while participating in projects throughout Europe.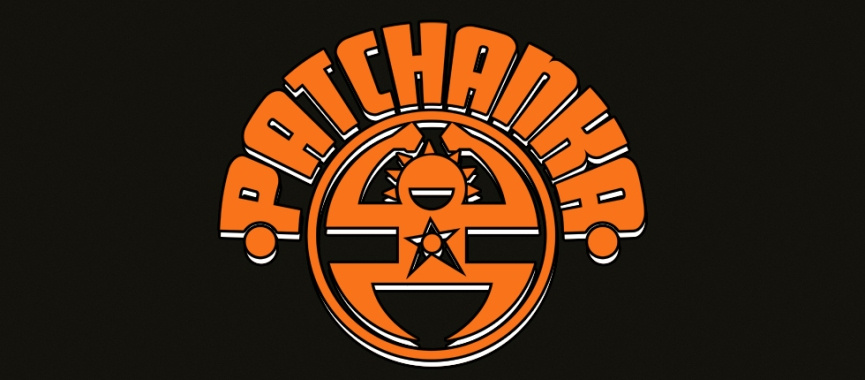 Follow These Galleries
Berlin, Germany

Berlin, Germany