White Walls Gallery Showing: Helen Bayly
White Walls Gallery is excited to announce the upcoming exhibition by San Francisco based artist Helen Bayly. Artist's newest show titled Raised on Promises will feature her new body of work. This is Helen Bayly's second exhibition at the White Walls Gallery for which she has prepared over thirty new works. Helen Bayly's new volume of artworks consists mainly of paintings and some sculptural elements with which she will occupy the White Walls Gallery's main room. Helen Bayly is bold, emerging artists whose work is characterized by curiosity seen in the variety of themes that she explores. For Bayly art is an ongoing process of exploration and growth, the ability to leave your comfort zone and try different things.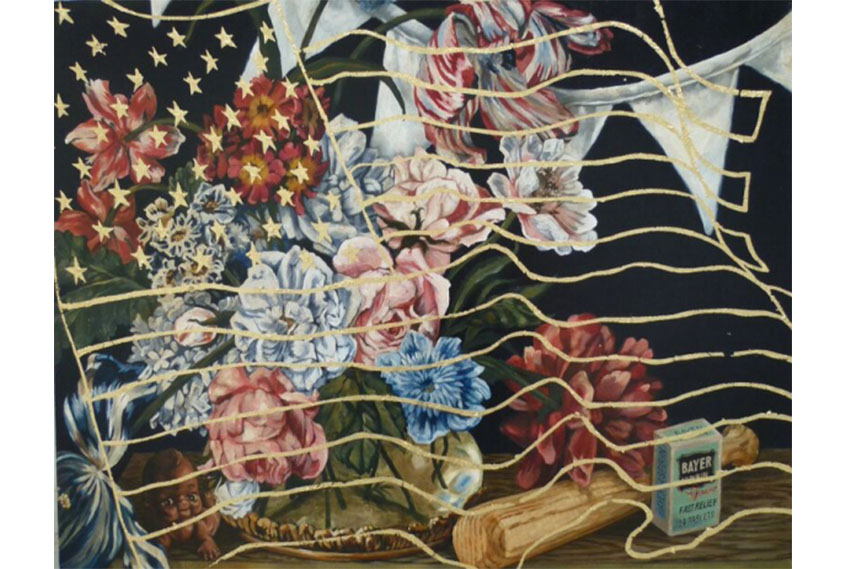 Helen Bayly's Bold Beginnigs
Helen Bayly studied painting at the San Francisco Art Institute from 2001 until 2004 where she had received a free form approach to art without too many technical guidelines that could have influenced her style. Rather, she had the freedom to explore and develop her own expression. Indeed, her art could be described as eclectic for even at the first glance there are many various imprints one could detect. But one impression is evident, it is work coming from a very skillful painter and a concept artist. Helen Bayly boldly approaches any subject and explores it without much reluctance. Bayly does not hesitate to jump into investigation of themes many see as taboos. So in past she had dealt with subjects such as sex, porn and devil. In those artworks Helen Bayly has employed a perfect amalgamation of art with a scientific approach. Much of Bayly's art could be described as exploration of contemporary topics through the use of mythological and religious imagery.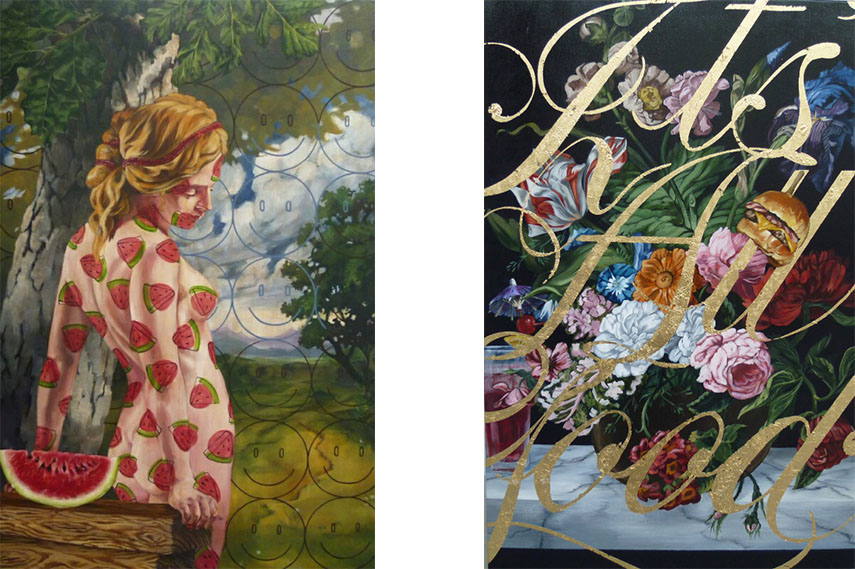 The Process of Creation
Helen Bayly utilizes classical approach to investigate nostalgia, humor and American values. The classical and the contemporary seem to intertwine in Bayly's paintings as she borrows traditional formats to elaborate on current issues but simultaneously translating contemporary language into the historical narratives. In her most recent series that will be shown at the White Walls Gallery, Bayly uses a peculiar approach to painting. She begins by gradually building painting layer by layer using classical technique only to later cover it with golden leafed text or brightly colored patterns. This process that Bayly uses raises many questions as what is her relationship to the background or is this process a part of the larger conversation? When observing Helen Bayly's paintings we are facing an intriguing mixture of pop art motifs such is the usage of ever day objects that she incorporates into the classical still lives or female nudes. Influences of two great pop artists Roy Lichtenstein and Andy Warhol are evident.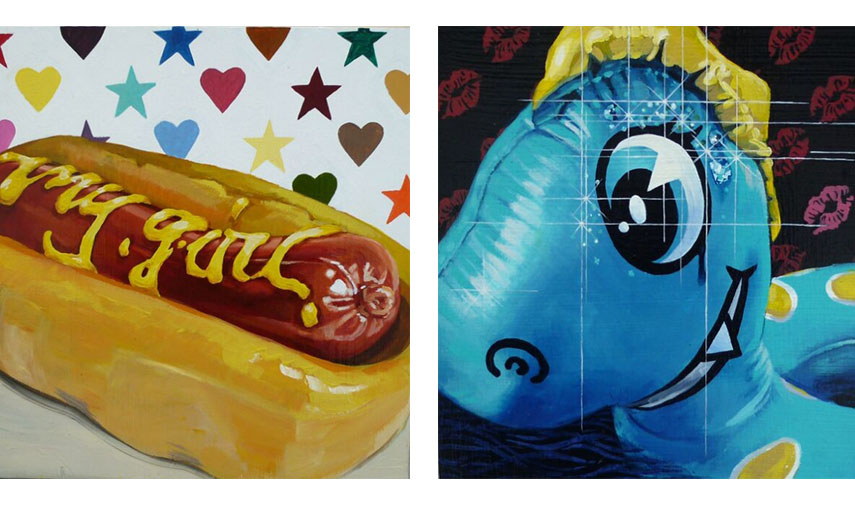 White Walls Gallery Showing: Helen Bayly
The art of Helen Bayly is often mysterious because it clashes motifs and styles one could never imagine being put together. It leaves observer wondering about the relationship between these thing and the meaning behind their merging on Bayly's canvases. One thing about Helen Bayly is certain she is a brave explorer and a modern pioneer who boldly takes her art by the horns. The evidence for this, if one ever needed, is her transition from drawing to the painting. After years of successfully building career with her masterful drawings Bayly decided to go back to painting which proved as a daunting task that she accomplished. Helen Bayly's exhibition Raised on Promises opens on May 16th at the White Walls Gallery in San Francisco and will be open until June 6th.
Sign up for My Widewalls for exciting art updates.
Featured Images are Courtesy of White Walls Gallery.
Follow These Galleries
San Francisco, United States