Widewalls' Artist of the Week – André Saraiva
The Paris based artists André Saraiva has been extremely active when it comes to collaborations in recent times. In Fall 2013 Monsieur André teamed up with the champagne professional Fabien Gay and media entrepreneurs Fabien Moreau and AlexAndré Sap to launch their own champagne brand. The brand Artéis & Co produced three micro cuvée's that were all designed by Saraiva. Next, André Saraiva lent his signature character Mr. A to the French fashion label Louis Vuitton for the Spring/Summer collection 2014. Alongside INTI and Kenny Scharf, Monsieur André designed the silk scarves for the third edition of the Louis Vuitton Artist Scarf. A week later the British Art and Fashion magazine EXIT announced that Mr. A adorns the upcoming edition's cover. Besides the cover Mr. A. found his way on walls worldwide over 200,000 (according to Saraiva). It is testament to Saraiva's involvement with graffiti for nearly 30 years. Besides his work as an artist André Saraiva is also creative director of the internationally renowned Purple Magazine, as well as nightclub and hotel owner. That is why André Saraiva is Widewalls' Artist of the Week.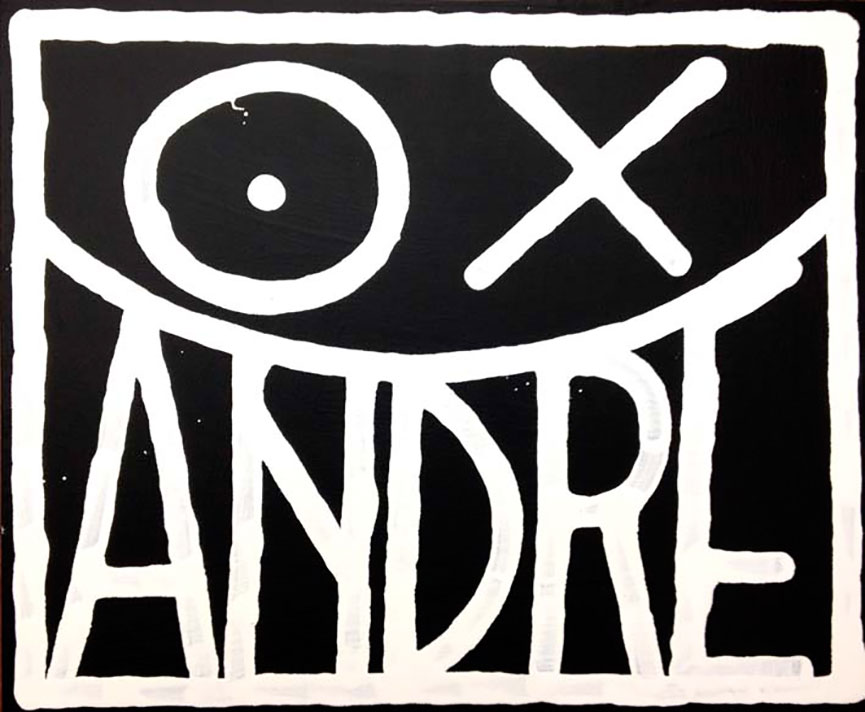 André Saraiva – Background
André Saraiva, aka Monsieur André aka Monsieur A, is a french graffiti artist. Born as a son of portuguese parents in Uppsala, Sweden he lives in Paris since his childhood. He started doing graffiti in 1985. Before he began exhibiting his work in galleries, André Saraiva was known as Monsieur A in graffiti communities. Saraiva was active in the early Parisian graffiti movement, alongside Space Invader and Zevs. He became identified with his iconic, cartoonish character Mr. A: a round-headed figure with long limbs and a circle and a cross for eyes—a subject that recurred in Saraiva's early canvas paintings. In the 2000s, Saraiva began a performing project called "Love Graffiti" in which he would spray paint the name of someone's lover at an address of his or her choosing. His later works continued to employ line, text, and clean-edged geometry. In 2008 Monsieur André hit the big screen in the Banksy documentary 'Exit Through the Giftshop'.  In 2012, he created a large-scale installation titled Andrépolis, resembling a city based on Paris and New York in miniature scale with neon lighting. In 2013 Saraiva partook in the opening of POTSE 68, Circle Culture Gallery's new exhibition space in Berlin, with his art at the center of the exhibition.