Widewalls' artist of the Week - C215
C215 is Space. On February 7th he opened the solo show "Back to Black" at StolenSpace Gallery in London. Many of the exhibited works had Star Wars as theme.  On Saturday (Feb 15) C215 is releasing a print depicting his daughter Nina, his most famous image.  The official print release is taking place at Openspace Gallery in Paris. Beside the exhibition and print release Christian Guémy is sharing images of his murals on daily basis in the social space. C215 uses Facebook to spread his beautiful art into Space. C215 in Space. C215 is Widewalls' Artist of the Week.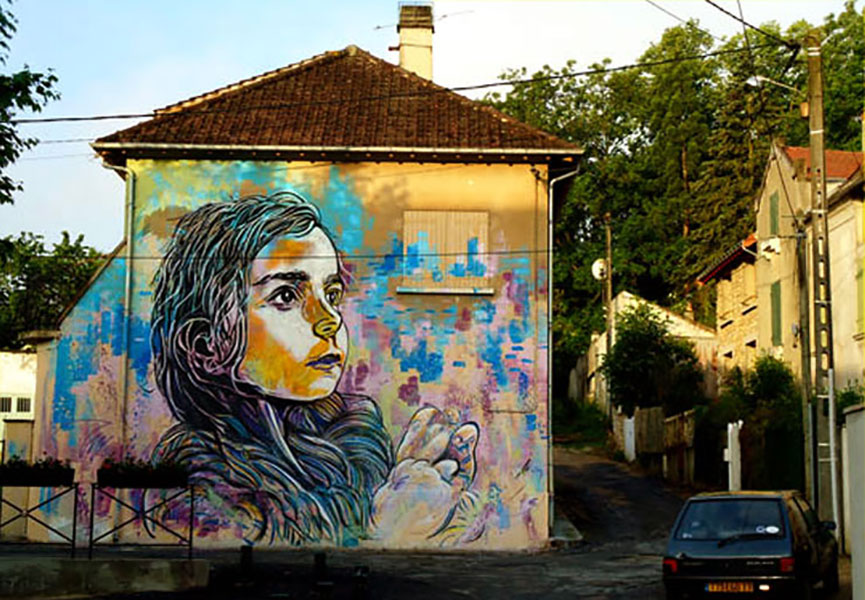 About C215
Born in 1973, C215 started spray painting in 2005 and is today one of the finest, and most productive stencil artists on the street art scene. His striking portraits of local people, children and especially his daughter Nina are expressive and distinctive in style. With his subjects always portrayed as proud and dignified, his images communicate on an universal level and draw attention to those that society has forgotten about.
Although C215 has been writing and publishing poetry separately, the artist never adds text to his stencils, in order to give the viewer the full possibility of the interpretation. In his choice of backgrounds, layers of random, yet well-selected found objects speak of passing time, with an outcome that is both, aesthetical and meaningful. His elaborate stencils- if outside a gallery- appear in the streets of various cities all over the globe, such as New Delhi, London, Istanbul, Fes, Rome, Barcelona, and Paris. Lighting up the urban spaces they decorate, every stencil has a reason to exist in its specific, well thought of place and all his pieces are hand cut and sprayed originals with a mix of found objects.