Widewalls' artist of the week - Shepard Fairey
Shepard Fairey has been extremely active these last couple of weeks. First the huge mural together with D*Face in Malaga, Spain. After that he went on a organized an urban art mega-event in LA to pay tribute to punk rock legend Sid Vicious. Following the SID: Superman is Dead show Shepard Fairey releases limited edition prints from artwork showcased at the exhibition. The creator of the Obey Giant is definitely the most active street artist out there at the moment. That is why Widewalls' artist of the week is the famous Shepard Fairey. It was one point in Fairey's life that changed his entire artistic career. It wasn't a lucky punch though. It was a hard but persistent journey for Mr. Obey until he had the Knock Out. Shepard Fairey gave America 'Hope'!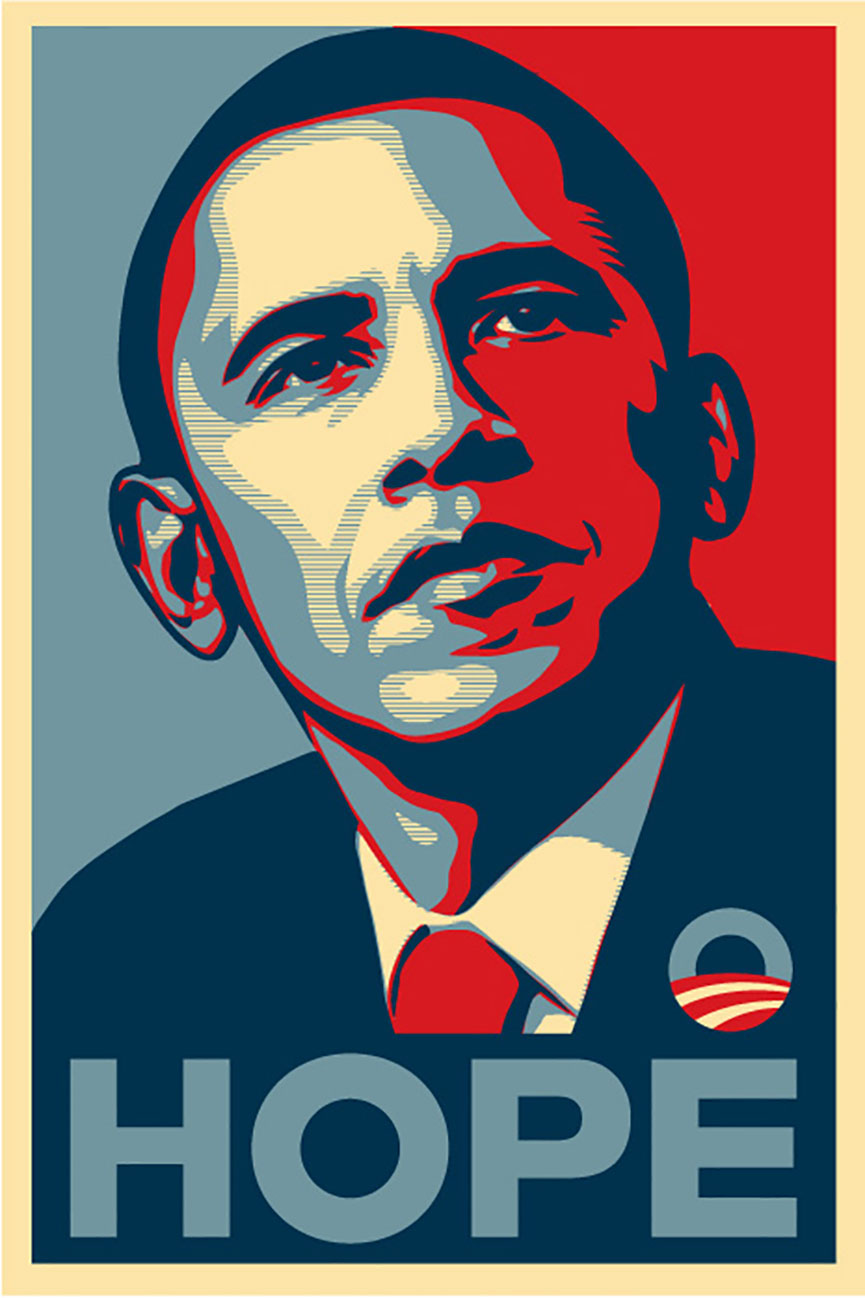 Who is Shepard Fairey?
An artist, a designer and an illustrator Shepard Fairey was labeled one of the most influential street artists of our time by the Boston Institute of Contemporary art. He modestly began his career as a street artist and an activist when he was young and intensely preoccupied with skateboarding through a sticker campaign Andre the Giant Has a Posse in 1989, but has grown as an artist significantly, as today he is recognized as the mastermind behind image campaigns often followed by much controversy.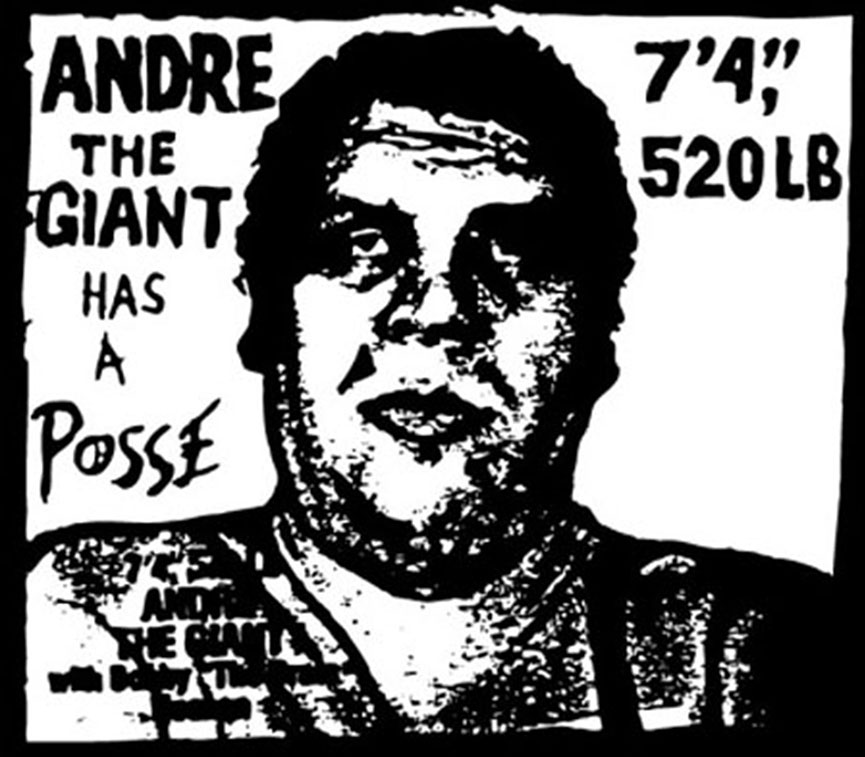 The early days
Fairey was born in Charleston, South Carolina and at the gentle age of 14 he started making art. He used to make stickers he used to put on skateboards and T-shirts at first. Four years later, he completed his secondary education at the Idyllwild Arts Academy in California, to continue his studies as the student of the prestigious Rhode Island School of Design. He possesses a Bachelor's degree in Illustration.
Shepard Fairey is the OBEY GIANT
His first sticker campaigned was inaugurated while he was attending the design school, and it later grew into a larger Obey the Giant campaign, that attracted a multitude of international followers and collaborators who participated by reproducing Fairey's original sticker images. The campaign had a goal to ignite the independent thinking and to raise questions about the social environment. From it, the Manifesto written by Fairey emerged, in which he explains his philosophy heavily influenced by Heidegger. OBEY GIANT is today a company that sells prints, books, clothing and other items with Obey images.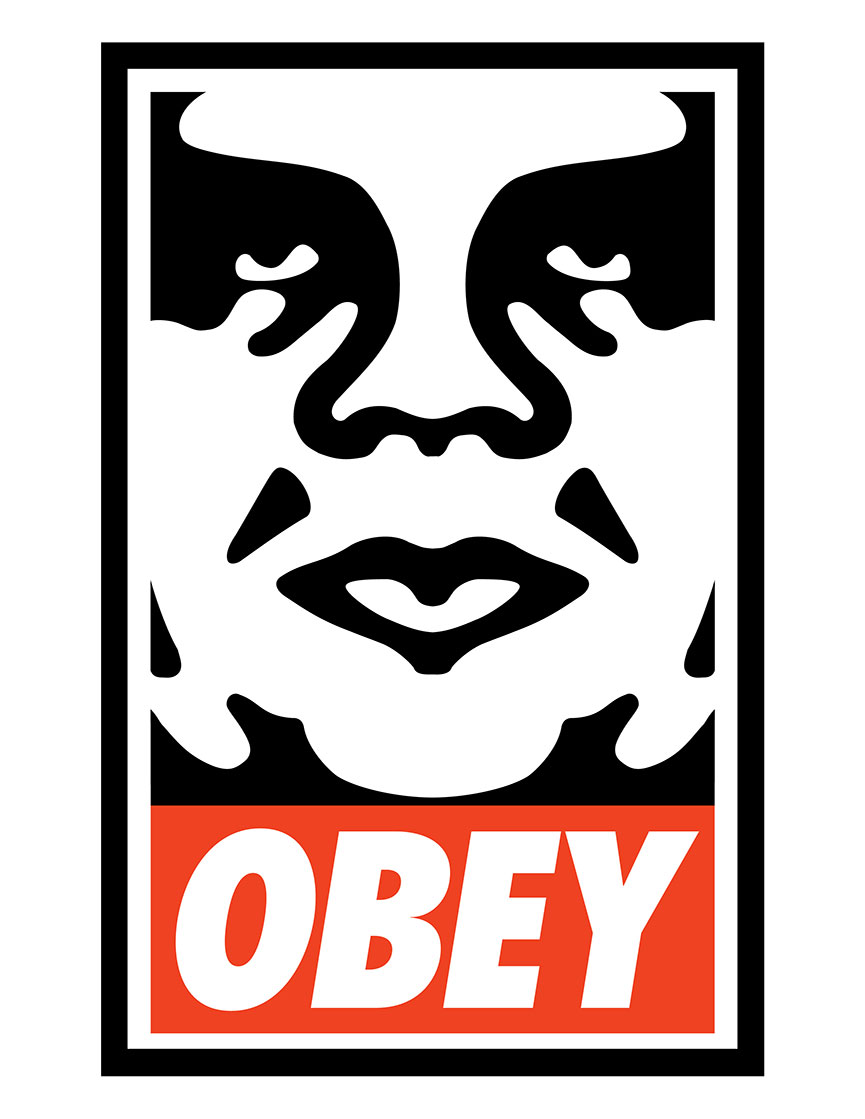 Shepard Fairey – Designer
Having worked as a designer after graduation, Fairey has produced a number of interesting visuals for various clients, some of which were multinational companies, such as Pepsi and Netscape. Some of his most interesting work came after he started a design agency Studio Number One with his spouse, Amanda in 2003. They produced album cover designs for The Smashing Pumpkins, Led Zeppelin, Flogging Molly, The Black Eyed Peas, Anthrax and others. He collaborated with Banksy and other street artists, and with famous DJs such as Z-Trip and DJ Shadow. There are two books published on the art of Fairey – Supply and Demand: The Art of Shepard Fairey in 2006 and Philosophy of Obey (Obey Giant): The Formative Years (1989–2008) in 2008. Fairey is also an active DJ, known under the stage name DJ Diabetic or Emcee Insulin, as he suffers from diabetes.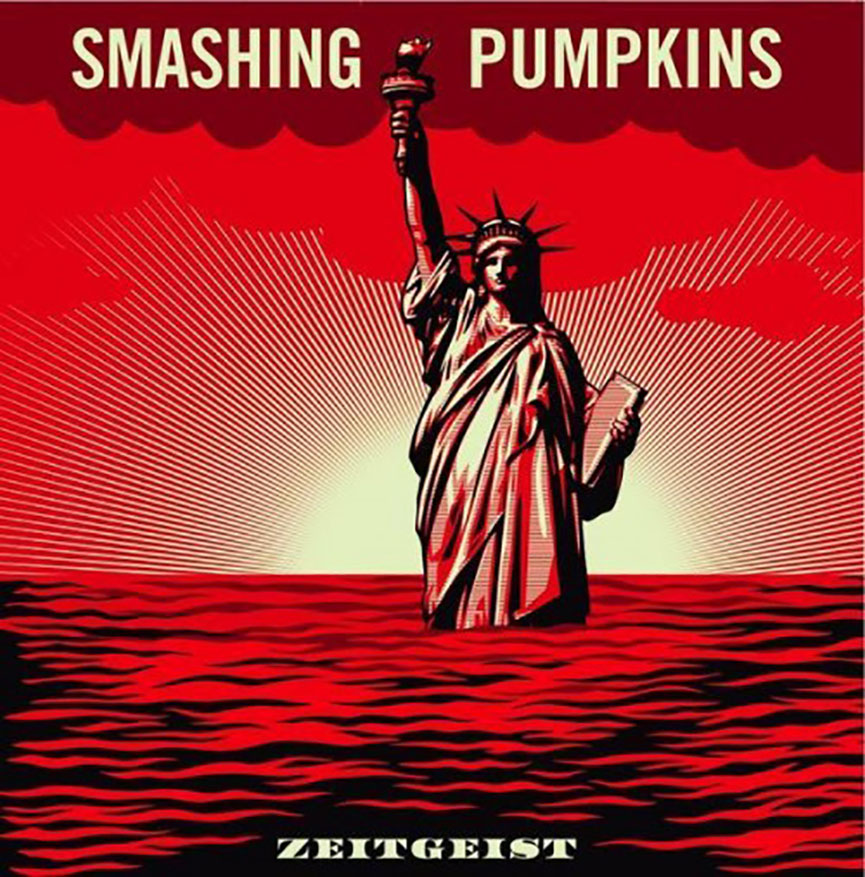 Shepard Fairey – Barack Obama
One of the most definitely most talked about works of Shepard Fairey, and probably the one that made him world famous, is The Hope poster done for Barack Obama presidential campaign. Everybody knows the iconic picture of Obama's face looking into the distance, stylized and rendered in the way that resembles a piece of socialist art. Through slight alteration of the national colors, shading and a clever choice of the image, Fairey has managed to produce an incredibly effective and strong political poster, simple on the surface, yet layered in meaning. It is the piece of propaganda that has everything necessary to appeal to the masses, and this fact resulted in a very high number of distributed posters and stickers. Fairey stated that he put the generated funds toward producing more art and that he did not keep any of it, but he still could not escape prosecution, because of the said illicit use of the photo image that served as inspiration for the work. Although campaign officials denied to have had anything to do with the poster production, Fairey did later receive a thank you note from the president Obama.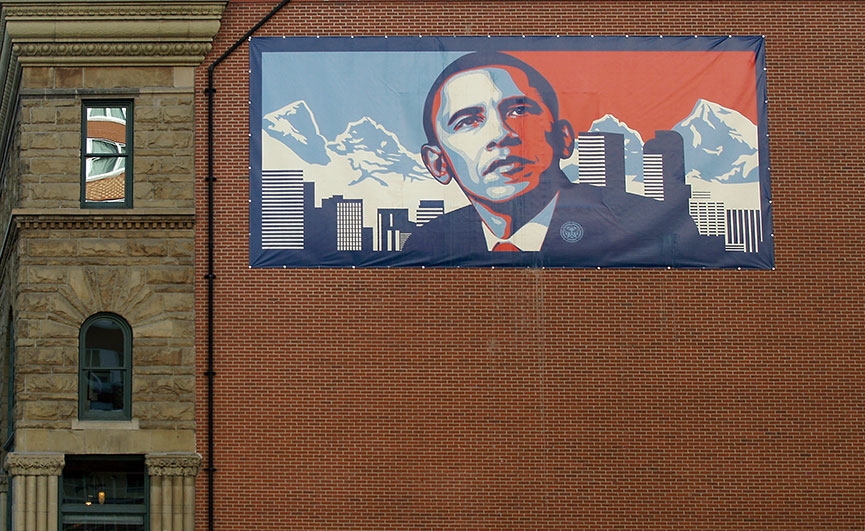 Becoming famous
In 2007 he had a solo exhibition at Jonathan LeVine Gallery titled E Pluribus Venom that was followed by a publication of the same name. After the Hope poster campaign, Fairey's professional course took a new turn as the attention he was getting increased significantly. His second solo show was opened under the title Duality of Humanity at The Shooting Gallery in San Francisco, and his third exhibit with the gallery encompassed one hundred and fifty works, including the lesser known canvas works he had executed. His most prominent exhibition was his first solo museum show held at the Institute of Contemporary Art in Boston in 2009. One of the curiosities connected to this event is the fact that Fairey was arrested while on his way to the opening, on the count of two separate warrants related to illegal graffiti. He was charged with damage to property, because of postering of two Boston locations.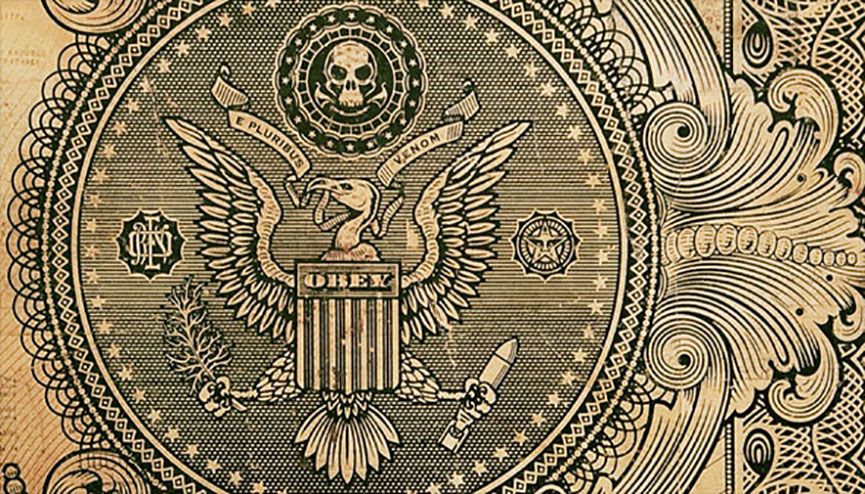 Shepard Fairey – Activist
The activist nature of Fairey's work and the activities in the area of illegal graffiti brought him numerous arrests that consequently led to a criminal record. He never ceased to be linked with the world of street art and a lot of his profits often proceed to numerous charities and campaigns supporting the people. However, he could not entirely escape being tagged a sell out, or the accusations of plagiarism. The critics confronted on the issues of originality of his work or praised him for his conceptual thinking. It has been documented that Fairey did use some of the existent images in his art, but as this was never denied, the defense came stating his creative approach to these images. The online community criticized his acceptance of major companies for clients, because they saw unfit that Fairey stood for a street artist who thrives on freedom of speech and simultaneously works for Saks Fifth Avenue. The artist defended his choices saying that this was the way of keeping his studio functional.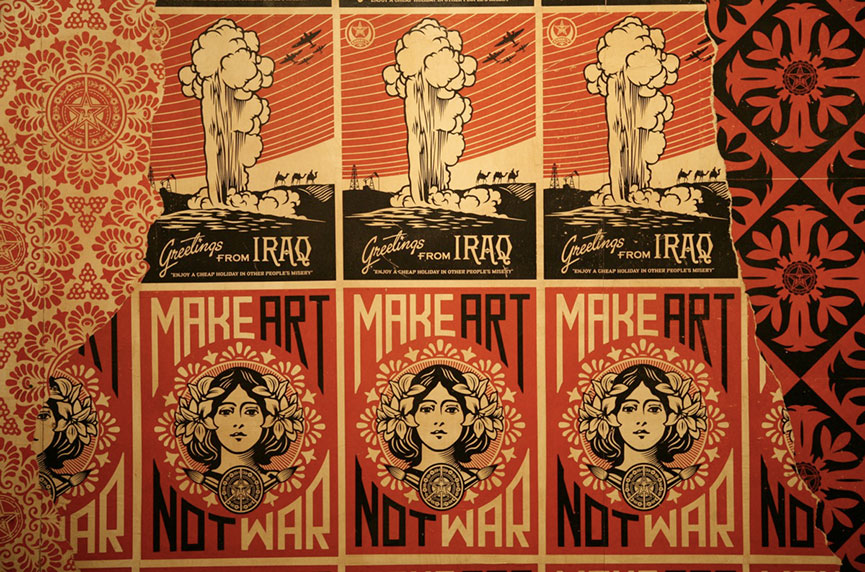 Shepard Fairey – Contemporary artist
Be as it may, there is no doubt that Shepard Fairey's work has a profound influence on contemporary visual culture. The fact that he comes from the realm of street art only adds to the appeal of his imagery. The official confirmation that he is in fact a prominent artist could be read from the fact that his work is present in a number of famous collections, for example at the Los Angeles County Museum of Art, the New York MOMA, the National Portrait Gallery, the Victoria and Albert Museum in London and the Smithsonian, to name a few.