Widewalls Collection – Best Ever "Colour Study No 1 (Hanna)"
This week we can present a beautiful urban art fusion of photorealism and surrealism by the British artists Best Ever. The work is titled "Colour Study No 1 (Hanna)". The street art duo that is long since painting exceptional works on canvas painted the profile of a Hanna. Her eye and nose region are executed in perfect photorealism making a distinction to a real woman extremely difficult. The other elements of her face like her ears and mouth provoke the impression that the artists did not finish their work. This however, is far from being true and this "imperfection" is a common technique Best Ever use in their artworks. The bald head fades over into light pastel colors and the neck region fades into a white cloak. These light colors set a strong contrast to the dark eye area of the woman's face and creates a surrealistic overall composition that is characteristic for the unbelievably talented Hadley Newman and Neil Edward. The original artwork is dated from 2013 and signed on the rear side of the canvas.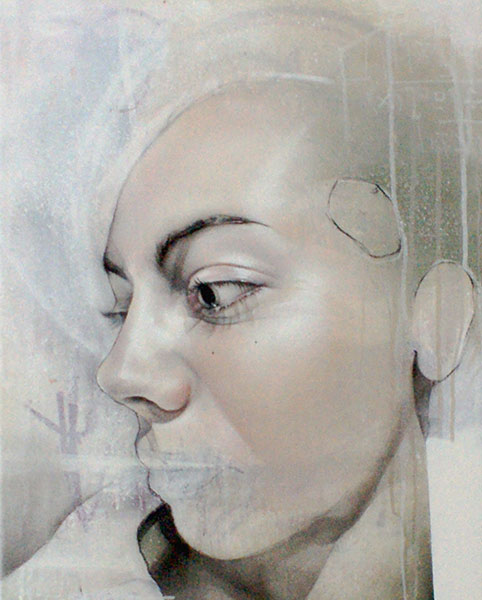 About Best Ever
Neil and Hadley make up the artistic duo better known as 'Best Ever'. Both have graffiti backgrounds to flatter their skills in photorealism. Best Ever have been painting for about 15 years now and Neil started in the 54 crew, doing straight up, commercial photorealism pieces. Neil then bumped into Hadley in Bournemouth who mentioned that they should try working together. It turned out that they actually had very similar ideas.
Best Ever working when working together, Hadley would normally start by throwing some paint at the wall and begin to make lines and angles in a very loose style. From there on, they never know who is going to work on what part. It really varies from piece to piece, in terms of who does the photorealism part, who does the loose sketch part. Some canvases have more input by Hadley and other parts have more input from Neil.
A lot of times it will start from a really loose idea and then Hadley might lay down some ideas in his sketch book and then they add more and more realism elements. Best Ever work always evolves and you can never tell from the initial sketch what the final outcome will be.