Widewalls Collection – Herakut
I am not pretty but I can lift you up is the title of this weeks presentation of artwork in the Widewalls Collection. The work is by German urban art duo Herakut. The 120 cm x 80 cm work is acrylic paint on canvas applied with both brush and spray can. The use of water squirts on the paint created the drip effect at the bottom of the painting. The figurative painting depicts a bodybuilder pug in a white-spotted Minnie mouse dress. The puppy eyes come with the out fit. In her arm the hybrid cradles a small child with a huge head and eyes. The pugs eyes are what strike at first observation.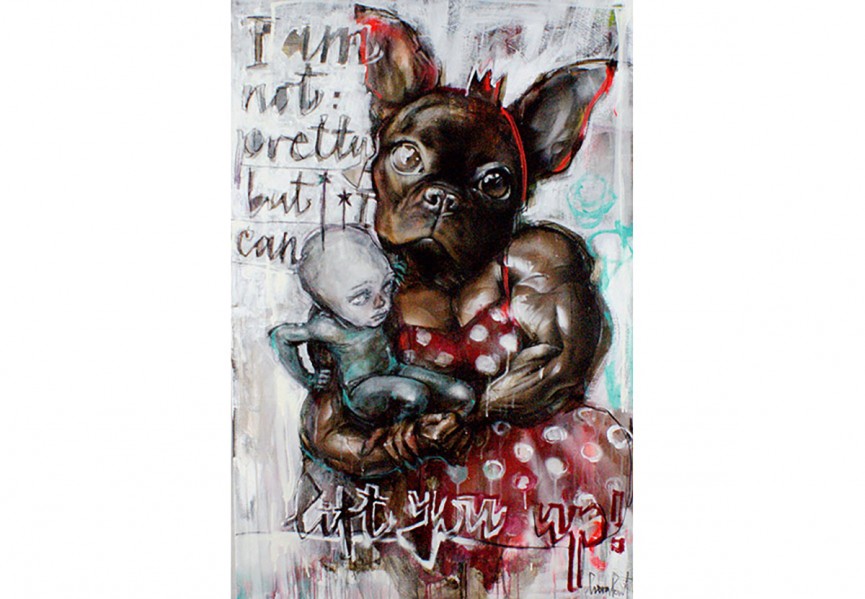 Viewers look the pug deep into in its eyes and feel a pleasant sensation. The second viewing reveals the grey baby with the deformed head. The unnatural looking child gives the work a certain darkness that often occurs in Herakut paintings. First and foremost it is that Herakut humor that characterizes this piece of art. It is dry, weird and unbelievably beautiful and we are proud to have it in our a collection. Herakut, you are a Marvel.
About Herakut
Herakut is a symbiosis of the aliases Hera and Akut, two graffiti artists from Frankfurt and Erfurt, Germany. Herakut is an artist with four hands: those of Akut the graffiti artist, and those of Hera the painter.
Their collaboration started when they first met in 2004. Both were invited to paint at the Urban Art Festival Sevilla in Spain and before that time had only seen each other's work in graffiti magazines. To everyone and themselves it was clear that despite the fact they both focused on character painting their styles had nothing in common whatsoever. And that has not changed a bit. Since 2004, Herakut has been combining Akut's photorealist spray paint with Hera's more traditional techniques such as charcoal and acrylic. Hera is a classically trained painter who "creates gestural, emotional figures in a freestyle manner using numerous tools including spray cans, brushes, and her hands."   Akut is completely self-taught yet is skilled in creating hyper-realistic images of animals and flesh using only a spray can. "What initially seemed like an unlikely pairing both conceptually and technically has since become one of the foremost collaborations in urban art and an innovative presence in contemporary painting."