Widewalls Collection – Nick Walker "Vandal Airways"
This week we can present another vandal piece by British urban artist Nick Walker. This time the man with the bowler walks away from a paint-splattered airplane. The Vandal looks over his shoulder to have one last glimpse at his decorative vandalism. He dumped red, blue and green paint over the entire length of the aircraft. The tail section of the plane is tagged Vandal, which looks suspiciously similar to the company logo of Virgin. The work titled Vandal Airways exists as a print edition of 150 and an artist proof edition of 30. Our piece is the artist proof numbered 4/30 and signed in the bottom right hand corner. Vandal Airways measures 56 x 84 cm and is mounted in a white frame. We are very proud to own such a magnificent and rare piece by one of the greatest street artist out there. We hope you enjoy it as much as we do.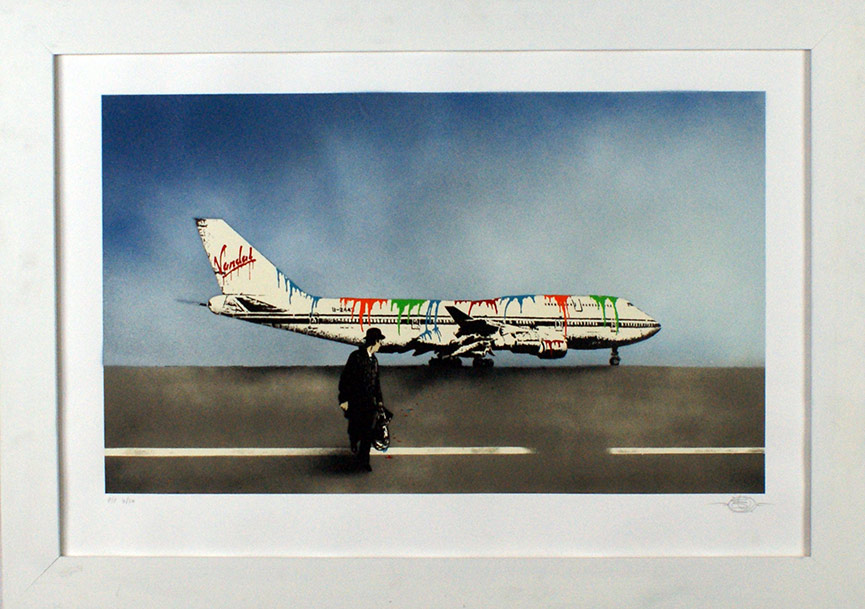 Born in Bristol
Nick Walker Born in 1969, he emerged from the infamous and ground-breaking Bristol graffiti scene of the early 1980s. As a forerunner of the British graffiti phenomenon, Nick's work has become a blueprint for hundreds of emerging artists. His work is constantly evolving and remains innovative, modern and thought-provoking. Walker's work has been a major influence on the work of Banksy. Nick Walker's signature street artwork is the Vandal. The Vandal is Nick Walker's street art alter-ego that has found his place on walls all over the world. Walker's work has been exhibited at galleries such as the Black Rat Projects in London, the Kantor Gallery in Los Angeles, and the 95 Gallery in Berlin, among others.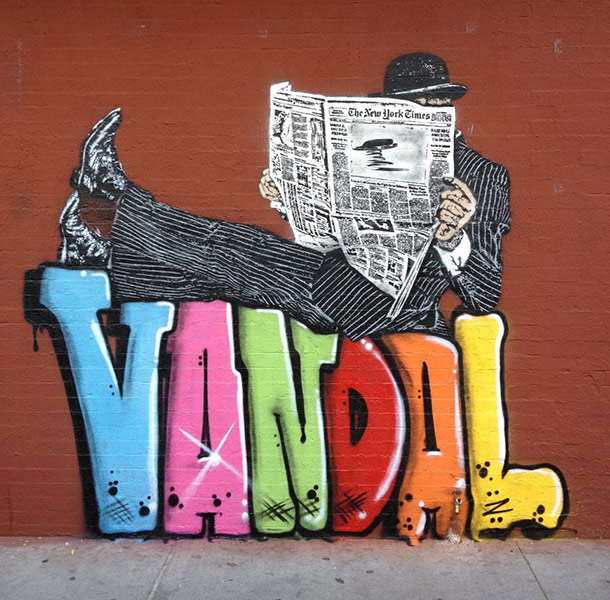 Energy and Imagery from Graffiti
Nick draws on the energy and imagery of graffiti but he succeeds in combining the freedom the spray can brings, with very controlled and intricate stenciling. The results are highly sophisticated and infinitely desirable. The methods he uses retain their forcefulness and integrity on the traditional medium of canvas. Nick Walker's instantly recognizable style and humor have gained him a worldwide following. Nick Walker had sellout shows in LA and London, where collectors queued for over 24 hours to be among the first to get his latest print edition. In 2008, his iconic Moona Lisa sold over ten times its estimated value at auction at Bonhams.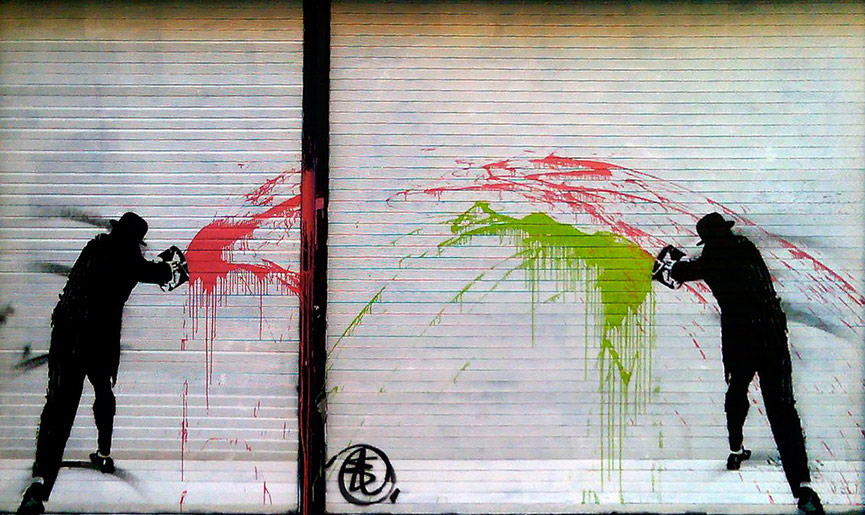 Follow These Galleries
By Appointment Only, Singapore

Asti, Italy

Paris, France