The Mesmerizing Paintings by Sir Winston Churchill
The end of the 19th and beginning of the 20th century was marked by a number of different processes which changed the course of the humankind. From the technological development (electricity, railroads, the inventions of telephone and cinema, etc.), through medicine and other scientific branches, to art, practically every aspect of human activity rapidly changed. On the other hand, those processes were followed by extreme political and social shifts, especially the warfare on the global scale.
Nevertheless, the mentioned period nurtured a large number of significant figures whose ways of thinking and doing almost entirely changed several centuries old theoretical and practical modes and structures. Such was one of the most prolific statesmen, Sir Winston Churchill. The political efforts and especially decisiveness and courage this British showed during World War II were complemented with his larger-than-life persona, so it is not strange that Churchill is inscribed in world history books as a figure of an immense relevance.
A large number of theoretical analyses is written of his contribution to the politics, yet his affiliation to arts is not that known to the wider public. Namely, in the period between the 1920s to 1940s, Churchill was a devoted painter. He mostly did subtle landscapes and, from time to time, simple yet precise portraits, which will be examined further in the text.
In order to shed a light on the domains of his art, Heather James Fine Art located in Palm Desert, California, has decided to showcase a brief selection of nine canvases in an exhibition of the simple title – The paintings of Sir Winston Churchill.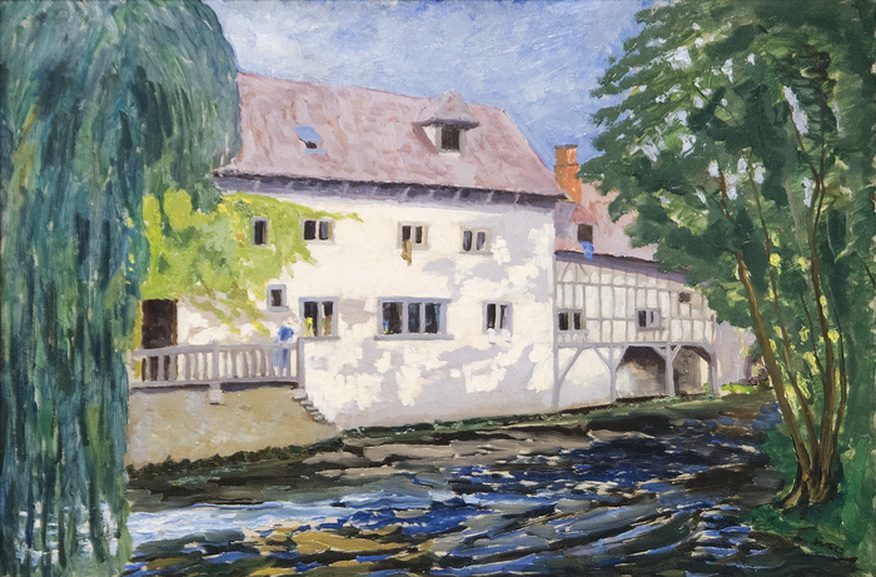 A Few Notes on The Context
Winston Churchill was raised in a family of aristocratic background, and after attending boarding schools, he went to the Royal Military Academy in Sandhurst where was accepted as a cadet in the cavalry. Various actions he experienced made him decide to become a parliamentarian, so in 1900 Churchill was elected as MP, which was a starting point of successful and lasting political career.
Later on, Churchill became President of The Board of Trade, then the Home Secretary and even First Lord of the Admiralty. Military involvement in the WWI proved to be unsatisfying for him due to the famous Gallipoli Campaign and so he decided to resign despite the impeccable determination to overcome all the obstacles.
Shortly after the war, Churchill returned to the Parliament where he obtained different positions from Secretary of the State to Secretary of the State for the Colonies. In the 1930s he pledged for the rearmament due to the increasing threat of Nazi Germany, so at the very outbreak of the WWII once again he became First Lord of the Admiralty. In 1951, Churchill was re-elected as prime minister, and in that position, he remained until 1955.
Aside from all of these titles and a shimmering political carrier, during the third decade Churchill became utterly fascinated with painting. Although he was 40 years old at the time and was entirely self-thought, the influence of his friends, among who painters Paul Maze and Walter Sickert, was notable. Chuchill would indulge himself in visiting national museums and galleries and copying the works of Cézanne or John Singer Sargent.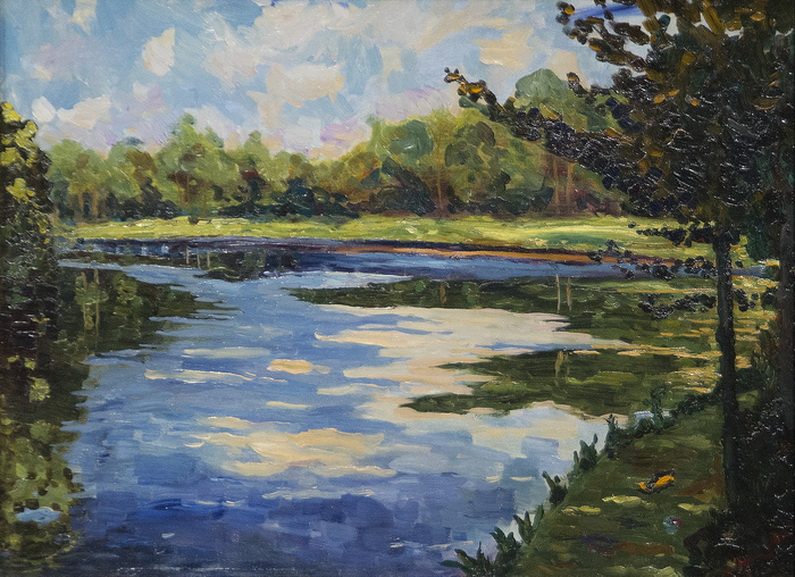 The Winston Churchill Paintings
The paintings of Winston Churchill are reminiscent of Impressionism; those landscapes were taken en plein air and they perfectly capture the atmosphere of the leisure time of greatest British politician. Throughout his life the great statesman apparently had an urge to view the world differently, aside of interest in national affairs.  Often he would paint the countryside near his Chartwell estate located in South East England (which Churchill bought in 1922 and lived there until the end of his life). As a matter of fact, Churchill took the painting set everywhere he went, from the South of France to Morocco.
In order to get fully acquainted with his interest in art, it is necessary to mention certain facts. In 1921, Churchill sent several of his canvas under a pseudonym of Charles Winter to an exhibition at the Parisian Galerie Druet. Even years later, under the name of David Winter he sent works to London Royal Academy of Arts' Summer exhibition where was accepted. This then resulted in an Honorary Academician title shortly after it was discovered that the person under that name is himself. In 1958-59, Churchill had a solo exhibition there which toured internationally – and that was a first and only show of amateur artists supported by the Academy.
The selection of works which are shown for this particular purpose covers only the lavish landscapes of Winston Churchill. They date back to the 1930s and reflect the high domains of his craftsmanship.
Such a focus on the painting is not strange, since the politician saw it almost as a therapy, as he also stated in his essay Painting as a Pastime:
And then it was that the Muse of Painting came to my rescue.
Therefore, it is easy to conclude that this form of artistic expression enabled Churchill to depart from the inherent stress of politics. He was very modest about his talent and had perceived it as a tool for enhancing the memory, focus, humility, and foresight.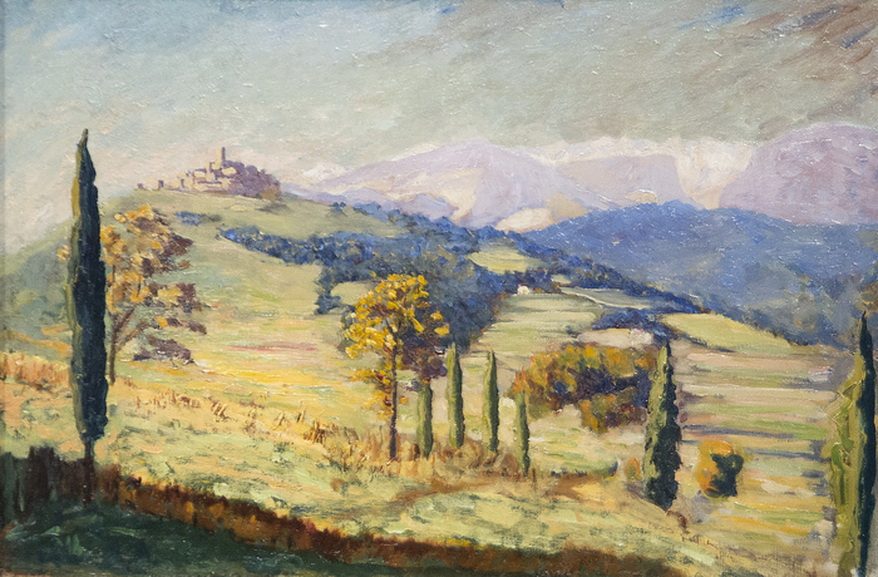 Sir Winston Churchill at the Heather James Fine Art
This outstanding personality had many important political roles, yet among them was a role of a really fine painter, which this particular exhibition tends to underline once again. During his mandate as a British prime minister, Churchill found the time to search for means to express himself artistically whether at home in Chartwell or elsewhere.
All of the works belong to the collection of the family of Julian Sandys, Churchill's grandchild and they will be on display from 30 May 2018 at Heather James Fine Art gallery in Palm Desert, California.
It is important to point out that this survey of Winston Churchill painting is coinciding with the 50th anniversary of his death and will be on a US tour. After California, the show will travel to the gallery's franchise in San Francisco where it will be on display from 1 June until 30 June and finally will be hosted in Jackson Hole, Wyoming from 1 July until 16 September 2018.
 Editors' Tip: Winston Churchill – Painting As a Pastime
The perfect antidote to his 'Black Dog', a depression that blighted his working life, Churchill took to painting with gusto. Picking up a paintbrush for the first time at the age of forty, Winston Churchill found in painting a passion that was to remain his constant companion. This glorious essay exudes his compulsion for a hobby that allowed Churchill peace during his dark days, and richly rewarded a nation with a treasure trove of work.
Featured image: The paintings of Sir Winston Churchill – installation view. All images courtesy of Heather James Fine Art.