Ireland Celebrates Women of the Rising 2016 with a Collaborative Bus Art Poster Campaign and a Mural
The year 2016 is an important one for Ireland. The country is celebrating the 100th anniversary since the Easter Rising, an event that marked the beginning of Ireland as an independent country, free from British colonialism and rule. The celebrations will last all through the year, and on International Women's Day, March 8th, the Irish people did not miss an opportunity to honour the role of women in the Rising and from 1916 to 2016 with a special event. The Irish Minister for Arts, Heather Humphreys, welcomed women from across the land, as well as relatives of those involved in 1916, to the Royal Hospital Kilmainham in Dublin, and launched a collaborative campaign entitled Women of the Rising.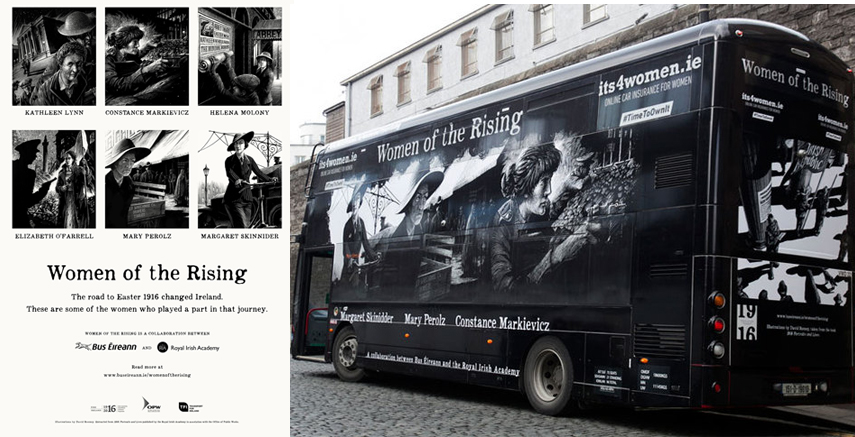 Women of the Rising 1916
Women of the Rising is a country-spread campaign created by the Royal Irish Academy and Bus Éireann. It will feature six leading female 1916 participants on posters that will be on board a total of 650 buses. In addition to that, Bus Éireann will recruit more female apprentices in their upcoming trainings. The women who will be featured in the bus posters are the revolutionary and feminist Margaret Skinnider, an Irish Sinn Féin politician, activist and medical doctor Dr Kathleen Lynn, revolutionary nationalist, suffragette and socialist Constance Markievicz, republican, feminist and labour activist Helena Molony, nurse Elizabeth O'Farrel and Mary Perolz. The Ireland 2016 Women of the Rising 1916 project also paid tribute with a moving video, which makes a parallel between Ireland then and now. Take a look below.
Women of Ireland 1916 | 2016 video
A Mural by Gearoid O'Dea
At the same event, a new mural was unveiled, created by Irish artist Gearoid O'Dea. Located on the corner of South Great George's Street, it depicts three women: Countess Markievicz, Margaret Pearse and Grace Gifford-Plunkett, and it joined another mural painted there: Joe Caslin's iconic Marriage Equality artwork. The title of Gearoid's piece is Le Chéile I Ngruaig, which translates as Together in the hair, and it sees the three women conjoined by their hair and holding the flag of Ireland. "This 1916 Easter Rising centenary year seems like a great opportunity to re-imagine the kind of Ireland we could live in," commented the artist. "Following the example of the drafters of the Proclamation and their landmark declaration of equal rights for men and women, I want to explore the role that women played in the 1916 Rising".
Do you like the idea? Share your thoughts on our Facebook page!
Featured image: Le Chéile I Ngruaig, a mural by Gearoid O'Dea, via newstalk.com. All images used for illustrative purposes only.