X Contemporary Miami - A New Exciting Art Fair to Launch in Wynwood During Miami Art Week
For Matthew Eck, a New York-based artist and curator, the X symbol stands for "a destination point and an area of intersection" and that is what his new endeavour in the art fair world, X Contemporary Miami, aims to do for its inaugural edition during this year's Miami Art Week. Spreading across 28.000 square feet of exhibition space in Wynwood district, known to be an art hub of the city, X Contemporary Miami is set to host about thirty international exhibitors from US, Europe and South America. The boutique art fair will also offer an extensive program, consisting of panel discussions, performances and artist talks, as well as a series of specially curated projects to accompany the many exhibitions presented by the galleries. X Contemporary Miami looks to become a platform promoting the work of emerging and mid-career talents.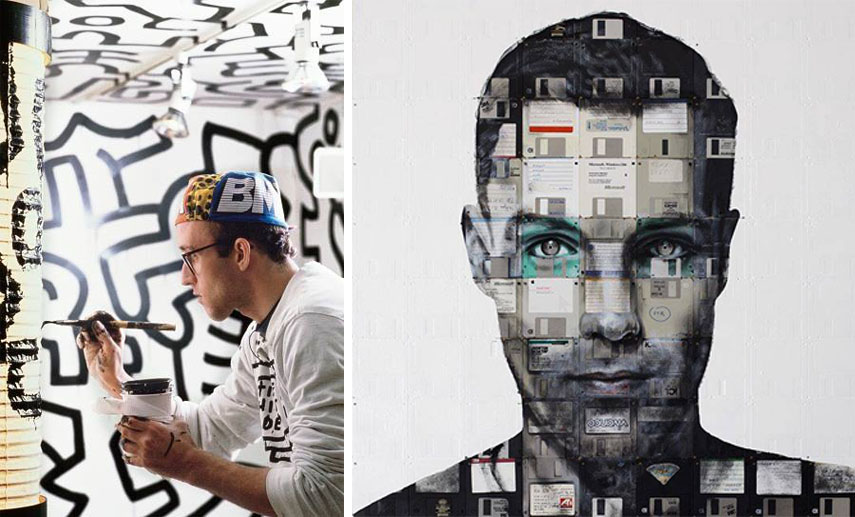 Art Fair Program
For five days, X Contemporary Miami will provide its visitors with a rich set of events and a special programming put together by Crystal Curtis, starting with fashion and music at the press and VIP reception on December 1st. The following day, there will be a presentation of The Perry Collection, presented by curator Michael Klein in conversation with Hart Perry, as well as a panel about how porn, gaming, hook-up culture and terrorism entwine with the artistic structure, and a talk dedicated to race, gender, class and geopolitics. Among those who will have artist talks, we have emerging Iranian artist Morehshin Allahyari, Angela Washko of The Council on Gender Sensitivity and Behavioral Awareness in World of Warcraft, Interview Magazine's Rachel Small and cultural provocateur Rachel Rabbit White. Talking about artists in the age of art fairs, there will be four other names, in a discussion entitled The Working Artist in America Today. Colombian collective TIMEBAG will be presenting their work on December 3rd, while on December 4th there will be Arte Collective and Peruvian artist Rafael Lanfranco.
Among the exhibitions and events, we highlight the Keith Haring : Pop Shop exhibition, curated by Castle Fitzjohns Gallery and featuring the 10-panel Pop Shop Sign conceived and executed by Keith Haring and Andre Charles in 1987. Also not to miss is the signing and release of a print by English mural artist Hush, to take place at Willoughby Art Advisory on December 2nd, alongside a special presentation of 1980s works by and about Jean Michel Basquiat. Shown for the first time at an art fair, the iconic handmade postcard collages and a portrait of the artist in silkscreen by Robert Carrithers, chronicler of NYC's St. Mark's Avenue performance space Club 57 during the 1980s. If you're a car enthusiast, make sure you visit Dorian Grey Gallery for the F430 Ferrari Art Car project with pioneering NYC graffiti artist John Crash Matos and Joe MAC of Martino Auto Concepts.
List of Exhibitors
| Exhibitor | City | Booth |
| --- | --- | --- |
| Ambacher Contemporary | Munich, Germany | B4 |
| Art Link International | Lake Worth, FL | B7 |
| Art Shape Mammoth | Brooklyn, NY | A5 |
| Berlin Collective | New York, NY | A2 |
| Boscar Projects | New York, NY | B2 |
| Castle Fitzjohns Gallery | New York, NY | C5 |
| Dorian Grey Gallery | New York, NY | C1 |
| Gallery Sensei | New York, NY | A4 |
| The Great Dane Collection | Philadelphia, PA | B10 |
| Heisel x Scott Taylor Art | New York, NY | B9 |
| The Hollows Art Space | Brooklyn, NY | A6 |
| KH Fine Arts | Hoboken, NJ | B1 |
| Krammer & Stoudt | Brooklyn, NY | B11 |
| LG Tripp Gallery | Philadelphia, PA | B6 |
| LIVASPENART | Aspen, CO | C6 |
| The X Living Room Lounge | Site Specific | C7 |
| LOCUS | Oslo, Norway | C4 |
| Nicole Longnecker Gallery | Houston, TX | A7 |
| Olive & Orient | Brooklyn, NY | A3 |
| Parenthesis | Brooklyn, NY | A1 |
| Robert Fontaine Gallery | Miami, FL | C3 |
| Sasson Soffer Foundation | Amagansett, NY | B3 |
| SOBE Projects | New York, NY / Miami, FL | B8 |
| Takako's | Brooklyn, NY | C9 |
| Treason Gallery | Seattle, WA | B1 |
| US+U / F. I. T. | New York, Yonkers, NY | B5 |
| Vertu Fine Art | Boca Raton, FL | D2 |
| Wakos | Lima, Peru | C8 |
| Willoughby Art Advisory | East Hampton, NY | C2 |
Participating Galleries and Collectives
A total of twenty nine exhibitors will present their artists at X Contemporary Miami. Among the renowned galleries from the US soil, there is Robert Fontaine Gallery, which will bring the great Nick Gentry for an exhibition. New York's Gallery Sensei will be presenting the paintings by artist Derek Des Islets. Among international exhibitors, there will be Ambacher Contemporary from Munich, Germany, LOCUS from Oslo, Norway and Wakos from Lima, Peru. The majority of galleries and collectives come from New York City and Brooklyn, such as Art Shape Mammoth, Berlin Collective, Boscar Projects, The Hollows Art Space, Krammer & Stout, Olive & Orient, Parenthesis and Takako's.
The Location of X Contemporary Miami
X Contemporary Miami – Practical Visitors Information
The first edition of X Contemporary Miami art fair will take place from December 2nd through 6th 2015 in Miami's Wynwood district on NW 25th Street. The press preview and VIP vernissage are set for December 1st from 5pm to 7pm and from 7pm to 10pm respectively. The fair opens to the public on December 2nd at 12pm, with Press and VIP brunch taking place from 10.30am to 12pm. Fair hours will be 12pm to 9pm from December 2nd through 5th and to 6pm on December 6th. Ticket prices range from $10 for the general admission (Single Day), $20 for Single Day Plus (general admission – Tote and Cocktail) and $25 for Run of Show (Multi Day, Tote and Cocktail). For more information, visit the official website.
Featured images in slider: Samantha Robinson, Parenthesis Art Space; Donald Sultan Vertu Fine Art; Clark, Alexandra Posen; Terrault Contemporary – a full spread, Video still, 2015; The F430 Ferrari Art Car project, Dorian Grey Gallery. All images courtesy of X Contemporary Miami.