XENZ's Illusions
Art lovers of Chicago can go on a time-travelling journey at the Vertical Gallery this month, where British street artist Xenz is having an exhibition. In an exclusive interview for Widewalls, Xenz uncovers his inspirations, aspirations and illusions, letting us take a glimpse into his wonderfully creative mind.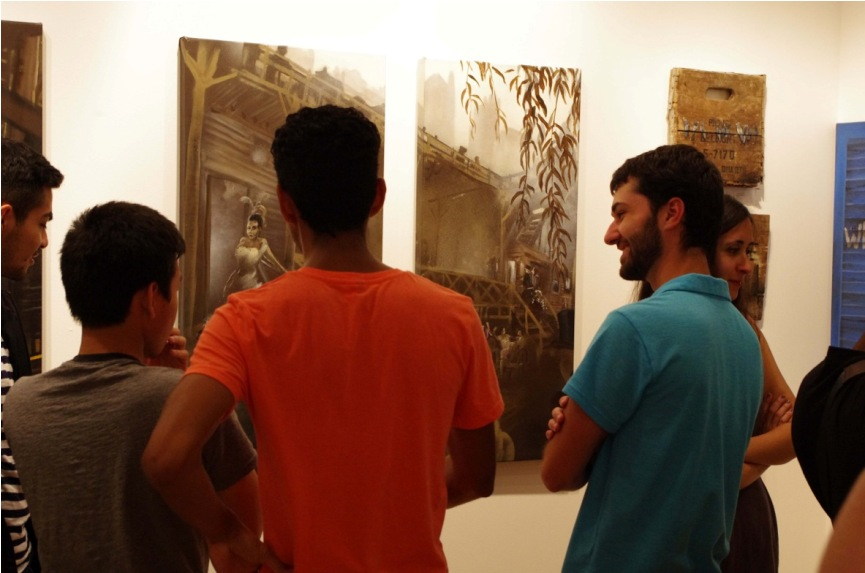 Building the Dream
Widewalls:  "Building the Dream" at Vertical Gallery in Chicago is your American debut. Tell us a little bit about the concept of the installation and the symbolism between the fact this is your first US solo show and its theme.
XENZ: I wanted to create a show that tells a story more than just an exhibition of my paintings. I was inspired by a short description of Chicago when it was the gateway to the Wild West. It got me thinking about how we all respond to descriptions of things. As a visual artist words can evoke a lot of images in my mind especially when I'm travelling to a foreign city. Our minds eye exaggerates things that stimulate inspiration and I wanted to try and capture this in a series of pictures. It started when a friend saw me working on a drawing of a hut and he said it reminded him of this depiction of Chicago written in this book he'd just read. He proceeded to describe this shanty town that had sunk into a swamp and it's residents began lifting the buildings which created this labyrinth under the city. I immediately started to paint this place what he described and it's these paintings – slabtown, dusk till dawn and toddling town – that began this journey of discovery.
Eventually I got a copy of the book he'd read, "The Outfit" by Gus Russo. I read the prologue which goes into great detail about Chicago in the 1850s. This story began to influence my paintings as I progressed from this fantastic vision in my friends mind to the factual descriptions written in the book as well as reports in the Chicago Tribune newspaper from the time. But all along I never wanted to let the truth ruin a good story this is after all a collection of paintings and drawings from my imagination I had very little visual evidence to work with, just words. The most intriguing discovery was the fact that Chicago's first crime boss was a Yorkshire man named Roger Plant. He built a huge vice den called "Under The Willow" which stood on the corner of Wells and Monroe and on every window shade he wrote the slogan "Why Not?". This was graffiti in the 1860s…that was my tenuous link to justify the next two months working solidly on this rather dark theme. Sat here now. I'm glad I did.
Widewalls: When did you first encounter "The Outfit" story by Gus Russo? Was it a lucky coincidence, or you prepared a special concept for the show in Chicago?
XENZ: When hearing I had a show in Chicago a friend explained about Chicago and how it was once a chanty town on a swamp. I found this intriguing so he suggested I read "The Outfit" by Gus Russo. I read the first few pages and that's all I needed. I decided to go full force on this one focused theme about Chicago in the 1800's before the great fire.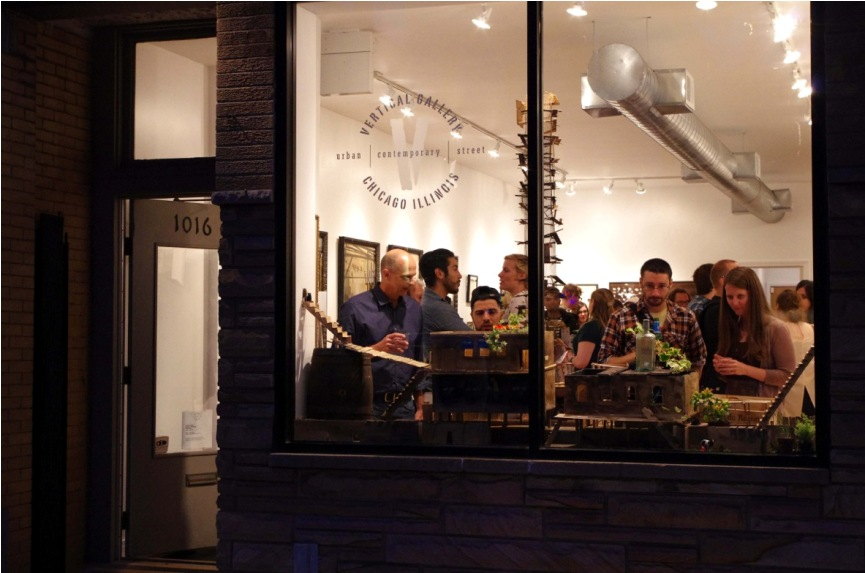 Widewalls: Your depictions are reduced in color comparing to your other work, while drawing appears to be in focus. Is this shift in style only theme-related, or something you have been working on in general?
XENZ: I have many styles it's nothing new or a shift away from anything. It's a theme no different to a mural piece except this is a series of illustrations. Yes this work is different to the birds which many people know me for but the techniques and approach are just me being me in my studio surrounded by paint some in spray cans some in bottles some in tubes. The show was about a time in Chicago that I imagined to be in sepia tones. I didn't think a riot of colour would have conveyed this era as well as the monotone style.
Widewalls: The atmosphere in your "Building the Dream" series depicts the era very romantically. Did you ever think of illustrating any literary works of the period, Dickens for example?
XENZ: Dickens inspires most of my work, in fact I think Dickens inspires everything everyone does. "Please sir, can I have some more." But yes, this project was interesting for me because it was based on literature. How I interpolated what I've read or been told. This I suppose is the skill of an illustrator – I've never considered myself an illustrator. My work is usually imaginary, freestyle. It was so good doing work based of fact without letting the truth get in the way of a good story of course.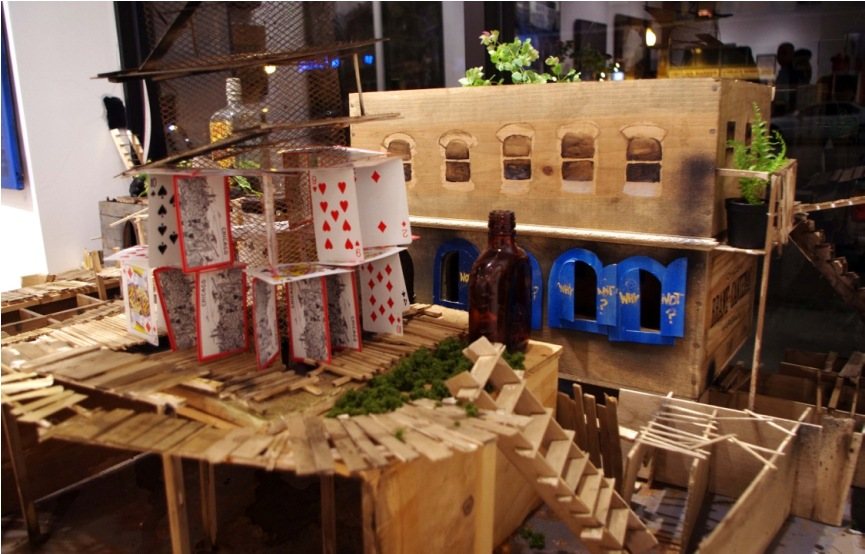 Inspirations
Widewalls: Viewing your work in retrospect, a change in iconography is apparent. Could you tell us a little bit more about your current imagery, obviously inspired by flora and fauna (birds, for example)?
XENZ: I'm painting birds because I like to see them. Can you imagine a world without birds? Birds fly in the sky. I love sky's as well. Oh and birds sleep in trees, I love trees too. I love orchids and flowers. I like the sea. I love skyscrapers. Big trucks. Tunnels. Aeroplanes. I like logos. I love old propaganda posters. I like seduction and courtship. I like dogs and cats. I make murals but I don't look at murals for inspiration.
Widewalls: Please, tell us a little about the techniques you use, besides the spray paint.
XENZ: I have been making lots of watercolours lately. I've found watercolour to be an amazing medium to develop discipline as a painter. I use these techniques now with spray. Preserving the surface colour as light.
Widewalls: Do you still use graffiti letter forms in your work? They appear to be gone.
XENZ: After about 10 years painting the same word repetitively it got boring so I've spent the past 15 years disguising the letters like some illusion. I always liked making backgrounds for the crew murals. My letters dissolved into these backgrounds. I like to use the letters as compositional tools. I disguise my tag in paintings. It's there, it just doesn't punch you in the face. I'm a nice guy. Look at the piece that I used to promote the Chicago show. Look at it deeply. Look at the iron girders. Look for the letters x e n z. You will find them. [If you build it, they will come – below]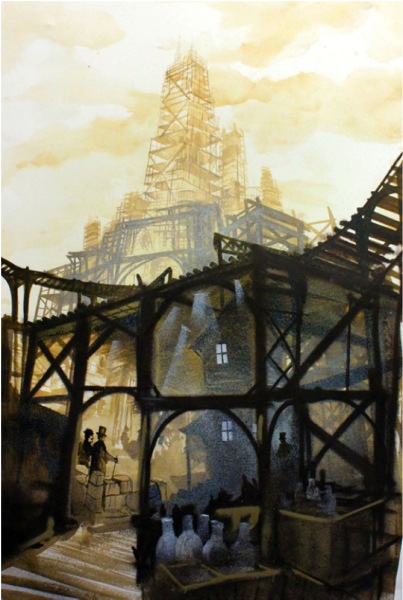 Widewalls: You indicated you like to create "infinite depth". How big of a role does illusionism have in your work?
XENZ: I'm nearly 40 and still calling myself a graffiti artist. That's an illusion right there, ha ha. For me, it's all about breaking the surface down with lines and dots. It's like magic and this is why I do it every day I find it therapeutic. I love how a few lines can transform the surface into something else.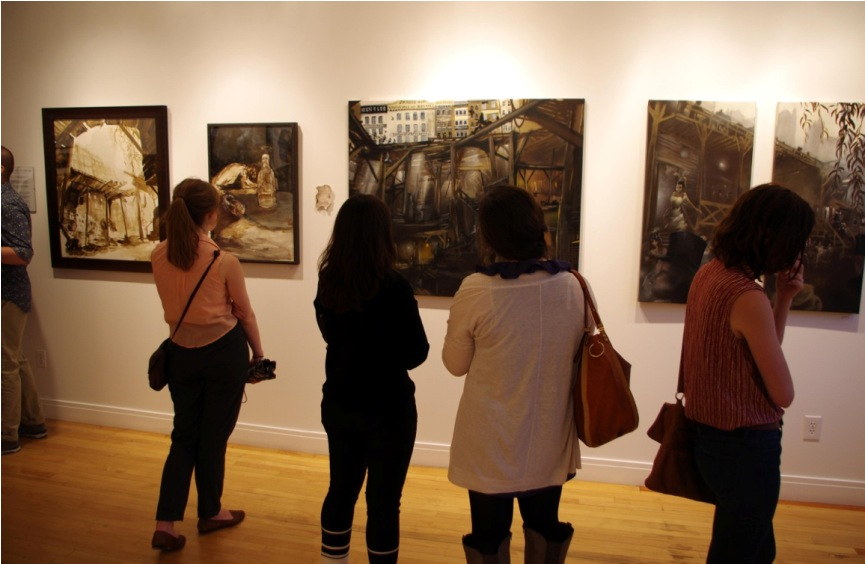 Recent Work and Plans
Widewalls: Recently, you did a mural in Greenwich that almost looks like the Queen of Hearts' Labyrinth in Wonderland, quite different than the Chicago series. What was the inspiration behind it?
XENZ: I haven't seen the Alice in Wonderland one but I bet it's amazing. The theme fit the space – the wall was originally one of those "living walls" with plants on it. Although it was north facing so the plants died. They ripped the wall down and that's when I got a call. I jokingly suggested they should have a topiary hedge the whole length. They loved it. Be careful what you wish for.
Widewalls: Finally, could you reveal what are you thinking about doing next [in your work]?
XENZ: In fact a project on Dickens may just be the one!! Definitely a show about London. I'm doing a live piece in Berlin and a group show in Vienna during August and September, and then I'll be on a beach somewhere doing more watercolours of seascapes. And Why Not?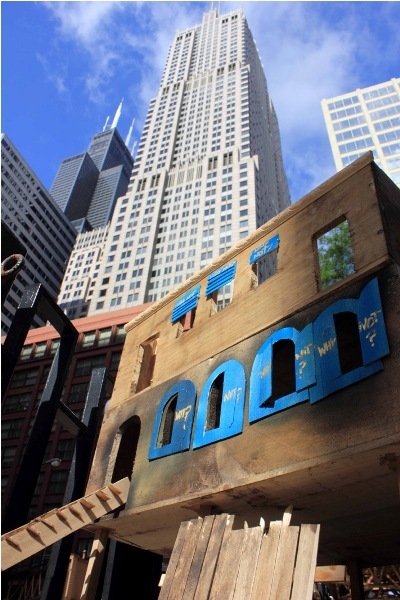 Follow These Galleries
Chicago, United States

London, United Kingdom