Yayoi Kusama at David Zwirner
The cooperation with Yayoi Kusama,  one of the leading contemporary artists, and the most popular artist in 2014, made yet another collaboration with David Zwirner Gallery in New York. New collaboration between Yayoi Kusama and David Zwirner is embodied in the exhibition title Give Me Love, a series of large-format, square shaped paintings. Her latest pieces follow the artistic analysis of form, physical and mental space Kusama exuded in her earlier work, spanning over sixty prolific years. There is a feeling that her last show is still resonating in the minds of visitors who were impatiently waiting for the next encounter with Yayoi Kusama.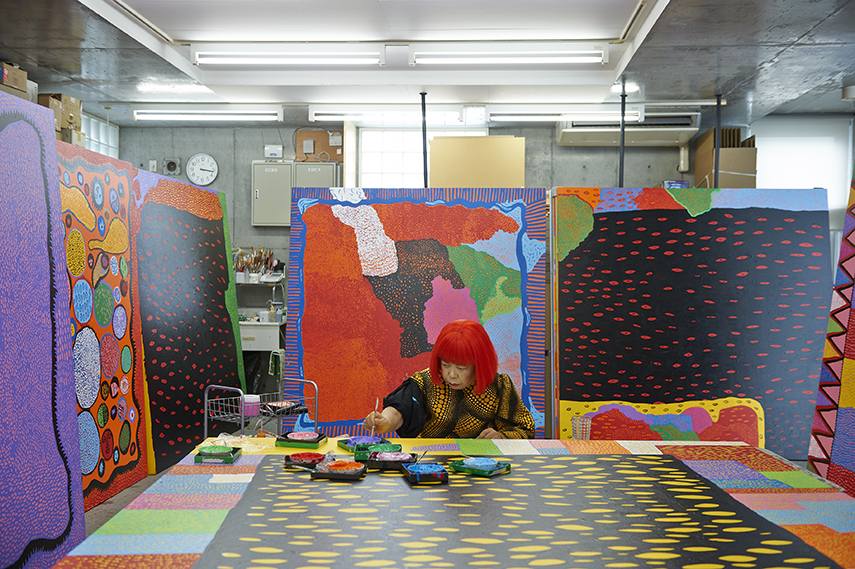 The Idea Behind Give Me Love
These vital and passionate canvases, once again, show us the confessional and autobiographical magnitude of her work. The titles of the artworks such as Fear of Youth Overwhelmed by Spring or My Longing, the Unseen Land of Death, add a dimension to her intimate stories and yearnings. Through depiction of multidimensional eternity, she discovers the secrets and passages of microcosm and macrocosm, biomorphic shapes with distinguished expressions and messages to pass onto the viewer. Vibrancy can be seen as a motif as well, expressed not only through color, but also through hypnotic and contemplative repetitiveness. All of them being of a large scale, viewer easily falls into the state of trans, observing and absorbing the works, the way it is supposed to be done – without any obstacles and interference. Repetitive motif is a dot – an all-encompassing entity, of which all of us are made.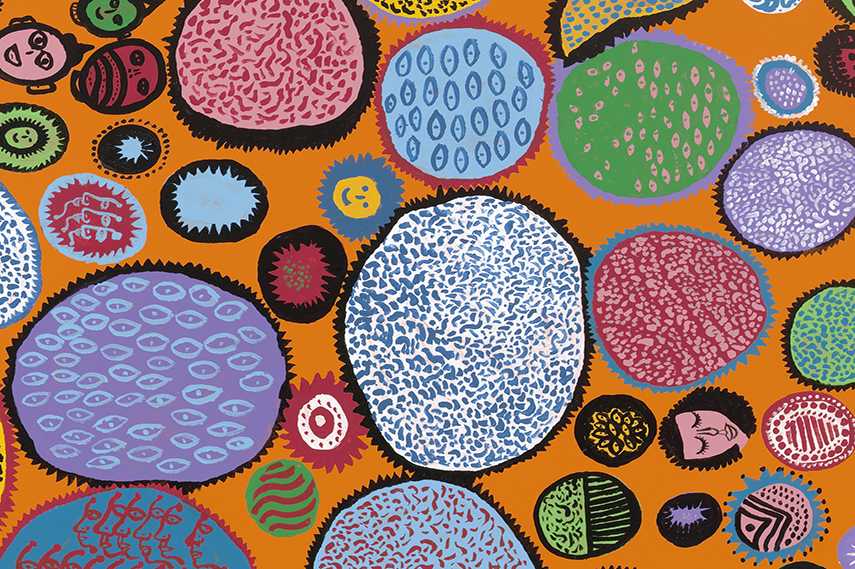 Varieties at David Zwirner Gallery
Having worked in different medias, from oil painting to sculpture, performance arts to film making and fashion design, she has changed many of the artistic expressions from Minimalism to Pop Art, and it can be said that she is a versatile artist with an enormous experience that have really participated in influencing and changing the course of contemporary art. The twisting shapes and daring brush strokes flicker between the abstraction and figuration, flatness and depth, presence and absence, beauty and sublime. The intensity of the of Yayoi Kusama's medium has its own pictorial logic and rules, built on the careful exploration of form for over six decades.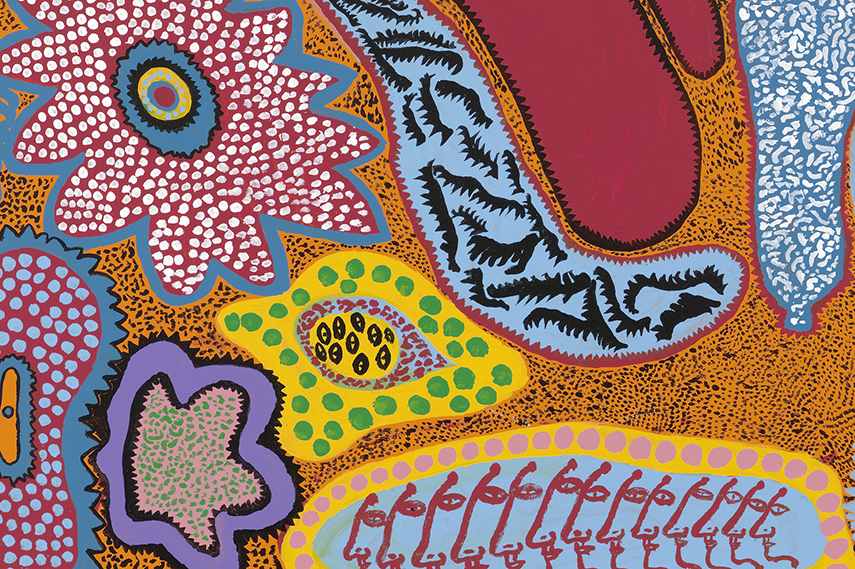 Give Me Love at David Zwirner
Aside from the large format paintings, the visitors will be able to see her legendary steel pumpkin sculptures over 170cm high, either painted or covered in her iconic polka dots, to wander between the lush organic shapes and shiny steel materials. Spaces 519 and 525 at David Zwirner Gallery in New York will be the meeting point for the opening reception on May 9 from 6-8 p.m. The exhibition will be open for visitors until June 13, 2015.
We advise not to miss any of our exhibition announcements by signing up for My Widewalls now!
Images credits: Courtesy of KUSAMA Enterprise, Ota Fine Arts, Tokyo / Singapore and David Zwirner, New York