One of the Most Exciting Young African Artists Today, Eddy Kamuanga Ilunga at October Gallery
Eddy Kamuanga Ilunga, a young African artist coming from the Democratic Republic of Kongo (DRC), draws influence from the cultural diversity, hybridity and complexity of his hometown Kinshasa. Offering an intelligent approach to popular culture by revealing anxieties and joys born of African urbanism, his art speaks of a young culture enraptured by commercialism and modernity. His latest works will be presented in his first solo exhibition in October Gallery, which is at the same time his first solo exhibition in the United Kingdom. The show will feature his new works from the present series Mangbetu where he explores a difficult situation of the Mangbetu people, an ethnic group of warrior extraction in the DRC.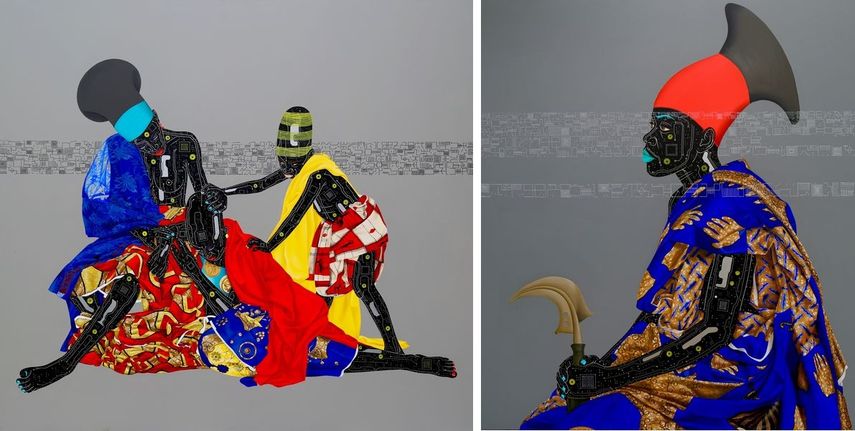 A Culture at Threat
The culture of the Mangbetu people, one of the largest subgroups in DRC, is being jeopardized by a desire to modernize. As the world's largest exporter of coltan, a raw material used in computer chips and mobile phones, DRC is struggling with the dubious ethics of the mining practice best manifested through the violation of human rights. Paying equal reference both to this modern industry and the traditional culture of the Mangbetu, Kamuanga Ilunga confronts their vibrant fabrics and cultural practices with the digital imagery of the present day. With a remarkable and delicate interplay of intensity and emptiness, two and three dimensions, and a Congolese pattern painted as European drapery, Kamuanga Ilunga's paintings are at the same time heroic and mournful of the disappearing culture.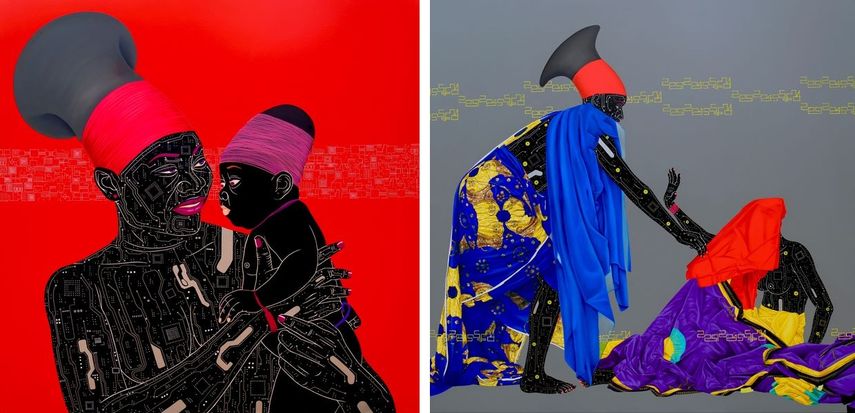 The Practice of Eddy Kamuanga Ilunga
Exploring the cultural complexity of his hometown, Kamuanga Ilunga transforms it into an imaginary space of visual symbols and mysterious forms. Referencing different forms of advertising and photography as well as the traditional aesthetics, his work is a mixture of pop cultural forms such as music fashion and dance. His creative expression has emerged from a brutal colonial regime, the struggle for independence and decades of social and political instabilities. In his works, he combines ancient and modern mediating the mass-influence of globalization on African identity. He is also a founder of the dynamic Congolese art collective 'M'Pongo' that represents the creative vibrancy and potential that exists in modern Kinshasa.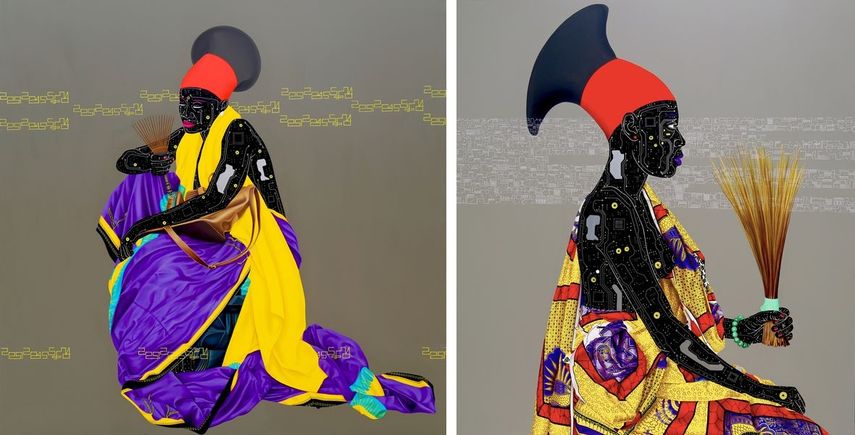 Young African Artist Eddy Kamuanga Ilunga at October Gallery
The work of Eddy Kamuanga Ilunga has been exhibited across Africa, notably at Dak'Art; Biennale OFF Senegal in 2014, and it was first exhibited in London at the Saatchi Gallery's Panagaea II in 2015. His first solo exhibition at October Gallery will be on view from June 30th until July 30th, 2016. A private view of the exhibition will be held on June 29th.
Featured image: Eddy Kamuanga Ilunga – Duty of memory, 2016 (detail). All images courtesy of the artist and October Gallery.