Young Chun at C.A.V.E. Gallery: Bloom
Young Chun is a South Korean artist that doesn't take anything for granted. His incredible manga-like portraits represent a reflection of people's and his one contemplation about everything that surrounds us. The new series of his oil paintings will be on display at Bloom exhibition at C.A.V.E gallery in Venice, California. The fragile striking glance of the artist's muses enriches his works with almost tactile depiction of life while the impressive size of his oil canvases forces C.A.V.E gallery viewers to admire every element of Young Chun's imagery.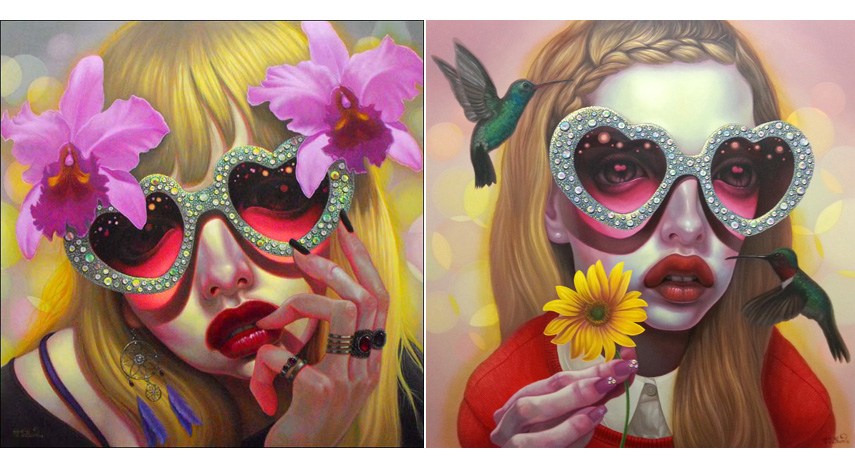 Life in Bloom
Young Chun's latest works are colorful and vivid, almost spring-like as the artist portrays blooming of life. Main subjects of his paintings are beautiful doe-eyed heroines wearing conspicuous over-sized chromatic glasses. Large magical lenses are emphasizing mesmerizing elements of the environment. Young Chun's muses are surrounded with blossoming natural elements such as flowers and animals. They are portrayed in great detail and embellished with youthful hairdos and various accessories including rainbow earrings, crystals nail decorations and shiny ruby rings. Hyperrealist foreground of Bloom images that will be presented at Californian gallery powerfully depicts both nature and nuances of pop culture while bright bubbly background completes the overwhelmingly optimistic atmosphere of Bloom artworks.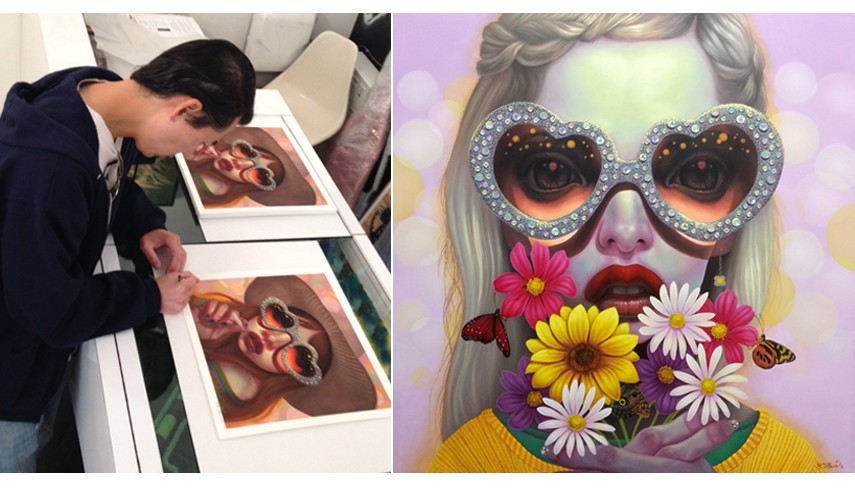 Young Chun's Creative Mind
Two events had a profound effect on Young Chun's work. His upbringing in South Korea and time spent working in healthcare system in his 20s. Young Chun lived in a small house attached to a hillside chapel where he often played around with his imaginary friends. The chapel has become a permanent fixture in his creative mind and it still remains a place where he creates, develops and keeps his artistic ideas before they even meet the sketchbook. Time spent working in hospitals where he went to find "something deeper" in life made him appreciate the delicacy of ordinary things. While exposed to life and death situations the artist learned not to take anything for granted. Imagining the lives of strangers, their triumphs, tragedies and experiences is a constant source of the inspiration for Young Chun's artwork.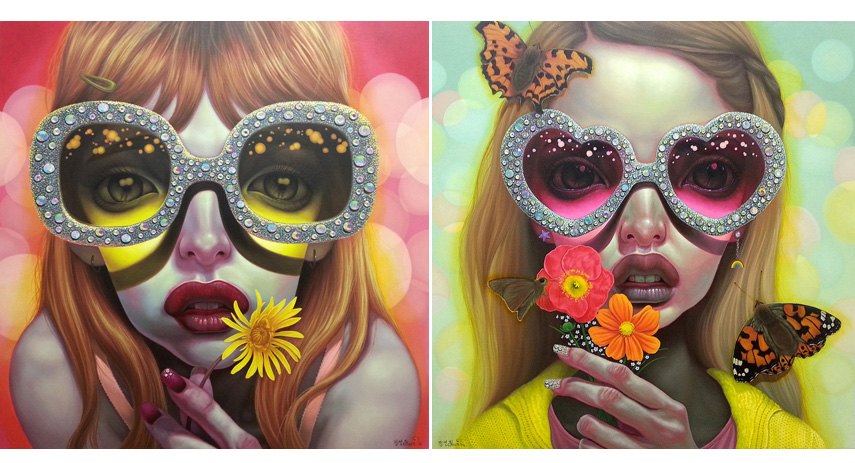 The Beauty of Nature at C.A.V.E Gallery in Venice, California
Young Chun's interesting background made him appreciate the importance of enjoying natural elements that surround all of us. But the artist also often contemplates about how others observe the world. The reflection of people's attitude toward the beauty of their environment is Young Chun's main inspiration and often central motif of his imagery. Bloom solo exhibition by Young Chun will open on Saturday, August 8th, 2015. Young Chun is no stranger to C.A.V.E gallery visitors having exhibited at the Venice gallery three times in the past. The artist's mesmerizing muses and blossoming surrounding will be on view till September 1st 2015, at C.A.V.E gallery in Venice, California.
Help our art resource blossom by signing up for My Widewalls for FREE
Featured image : Young Chun in his studio
All images courtesy of C.A.V.E gallery