Citizens of Nowhere - Yuri Pattison at Kevin Space, Vienna
In his first solo exhibition in Austria, Citizens of Nowhere (surveys 03.17), Yuri Pattison displays a fragment of his complex investigation into making the invisible mechanisms of the digital world visible by drawing attention to its physical infrastructure. Earlier this year, the institutionally affirmed Irish post-internet artist came to Vienna to install his commissioned work inside the one-room interior of Kevin Space in Vienna.
Pattison erected an almost ceiling-high wall in the centre of the space, dividing it in two almost equally large triangular areas. On the side that is easily visible through the large glass windows of the corner space, he confronts the viewers with the back of a functional beige soft encapsulated armchair and three flat screens – something we might find in first-class areas, such as at premium airports or posh hotel lobbies; while on the other side of the wall, he lays bare the interdependence that operates between the electric devices that he installed.
One of these is the multi-media work Elitism ['not everyone wants to live in the city']. The work includes two grey stones, paradoxically camouflaged as speakers, which emit a distracting noise. As it turns out, this is a one-hour cut from Ambience's 1 Hour City Sounds, as real as it gets and underscores the displayed image of an enlightened urban metropolis on the screen of the HTC smartphone, which simultaneously plays the soundtrack. The multifunctional mobile device itself lies on the stone-speakers next to a miniature palm tree – which, again, is a disguised cell tower. A Western European should know that such palms can indeed be found in real-size in hot urban landscapes.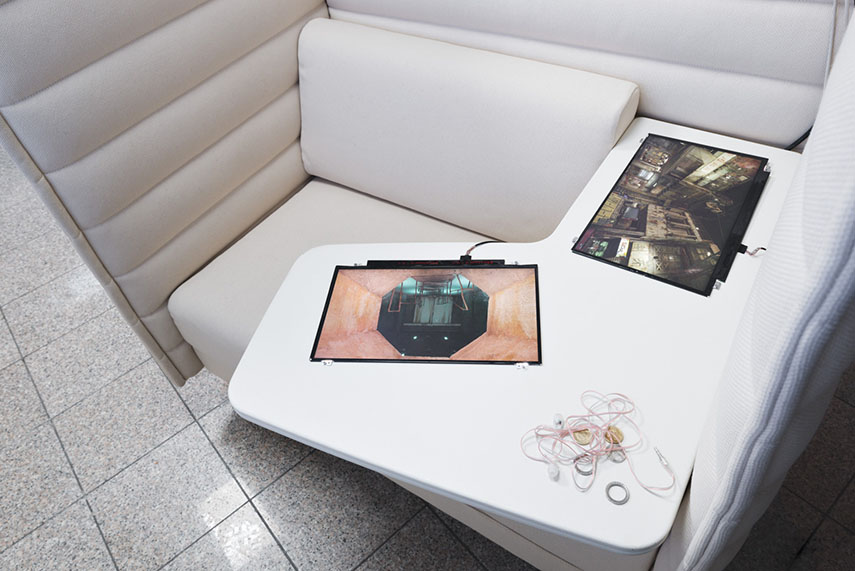 A Mockery of our Post-Capitalist Condition
In fleshing out the irony that keeps our urban working culture electric, Pattison aesthetically mocks our current post-capitalist condition. His work brings to mind, for me, the young Karl Marx and Friedrich Engels, who wrote in their Communist Manifesto that the bourgeoisie left "no other nexus between man and man than naked self-interest, than callous 'cash payments'". But, not even daily cash payments connect us today as the increasing usage of digital services has also rendered our material-based payments invisible. So, what are we left with? Two-dimensional and digitalised social networks? Screen-based (faked) news?
Following this, here very condensed line, of inquiry, the other side of Pattison's cleanly installed dividing wall demonstrates that the physical conditions of life and our relations with others appear almost sur-réal. For his digital video citizens of nowhere (surveys 03.17), Pattison commissioned a local film team in Japan to record some of the most famous sights in the world in their scaled-down version. The viewers of his video are thrown into a selection of virtual shots of the Tobu World theme park in Tinugawa, Japan. Critical of national narratives himself, Pattison's final version of the looped video strikingly shows many of the American buildings, for example the Statue of Liberty, the Whitehouse that has the miniatures of Donald Trump and his small-size family in the foreground, and the today non-existent World Trade Centre. On the bottom of the video screen, Pattison has overlaid these moving images with a continuously running live (faked) news stream, which draws on three international news websites, such as CNN, and displays these in distorted versions owing to the self-serving algorithm of the work.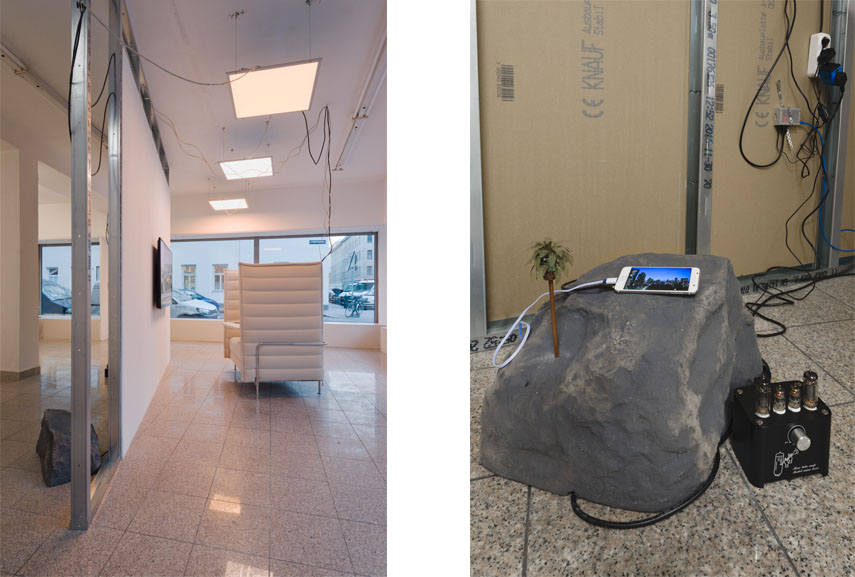 The Imagination, the Key to Unlocking Pattison's Work
By placing the ordered beige Vitra working chair in front of the screen in this safe, enclosed and yet transparent art space, it becomes clear that the functional chair can easily mutate into a relaxation anchor in which the line between work and leisure time activities become increasingly blurred. However, rather than retinal image, it is imagination, which serves as the key to unlocking Pattison's social network that is on display here. The two screens on its left armrest show digitalised moving images of the re-built gambling hall in Japan that is based on the now demolished architecture of the city of Kowloon, located in a socially isolated area in Hong Kong. As one does not need to sit on the inviting soft chair in order to see Pattison's digital work at his current Viennese show Citizens of Nowhere in its totality, it is up to each one of us to choose from which angle we wish to engage with the precarious socio-economic matters Pattison brings home.
Yuri Pattison @ Kevin SpaceMarch 11th – April 23rd, 2017 Volkertstraße 17, 1020 Vienna, Austria
Yuri Pattison, Citizens of Nowhere, exhibition view, Kevin Space 2017. Photo by Georg Petermichl.