Shadow Cabinet
C.A.V.E Gallery from Venice, California announced an exhibition by a young artist Zach Johnsen for this month. Titled Shadow Cabinet, the exhibit will feature his latest canvas works is founded upon the mythology of mask and spirit and it alludes to the contemporary political system. This Portland based creative has prepared an entirely new body of work, conjoining the styles he referenced in his earlier painting series. Scheduled to open on March 15 at 6pm, Zach Johnsen show will run through April 5, 2014.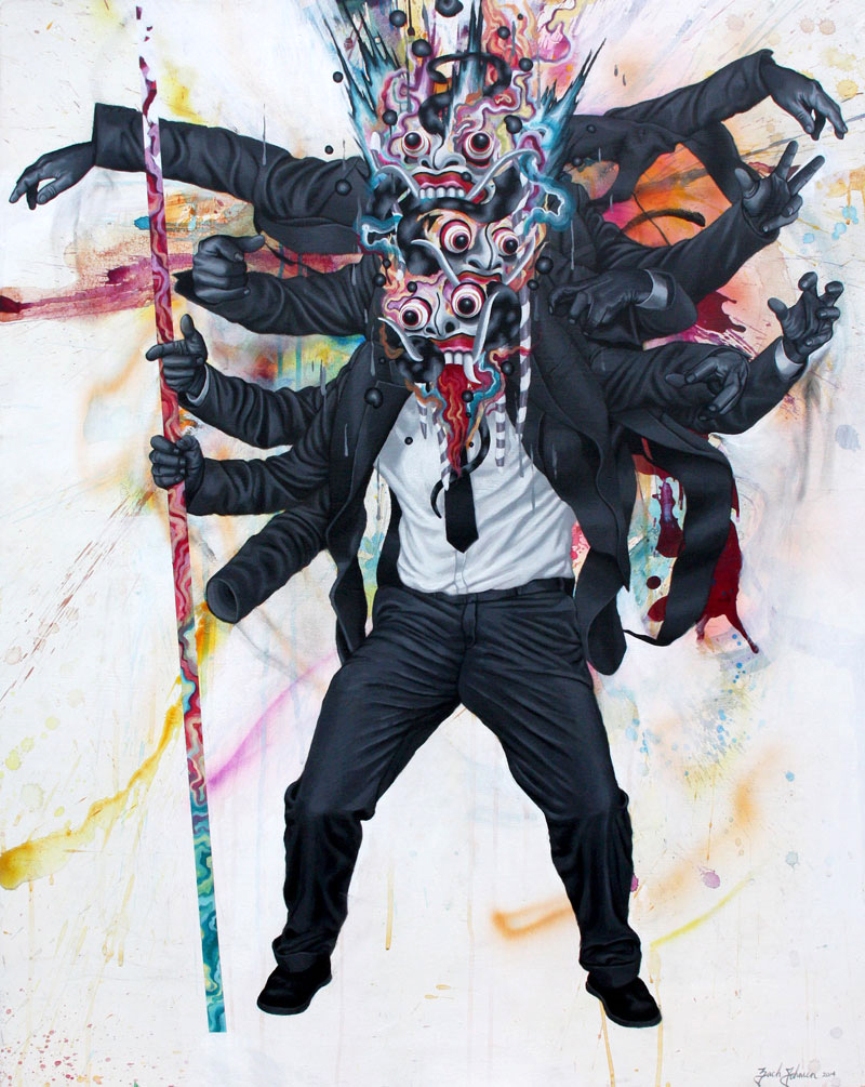 The Shadow Cabinet
Shadow Cabinet series delves into the abstract idea of the parliamentary system that has imperative impact on life and energy currents. Its paintings present a dispersed aura of rich color, thus leaning onto the former artwork created by Johnsen. Zach Johnsen was concentrated on merging all of his stylistic expressions into one, connecting the graphic traits and the painterly qualities of his art. The former series he created titled Acid depicted figures in suits, stopped in motion, crazy, shape shifting or bursting, which has been a starting point for the development of his new overtly expressive style.
His works are moved by an otherworldly power, which occasionally materializes and shapes into a trusted body of human parliamentary representatives. Zach Johnsen portrays every character as a crossover species between human and a ghostly entity wearing a mask, suggesting their tactile operations in our reality, as well as their actions bound to the unseen world of the spiritual. Bound to this Earth with common occurrences and everyday problems, the brilliantly painted and ironic assembly of rulers is here presented in a narrative that deals with their reactions to these situations of hardship. The result is the colorful and entertaining explosion of politicians, we all wish were true.
Meticulously drawn and painter, the Shadow Cabinet works of Zach Johnsen demonstrate an exemplary pictorial skill the artist possesses. Combining the fine, but precise linework with the expressive blasts of rainbow spectrum, he created a particular energy radiating from the canvas into the space, as it gets transferred to the viewer. Although they may appear as paintings in the classical sense, Zach Johnsen's works are actually realized through mixed media, where he added the colored smoke bombs to his array of employed techniques. The backgrounds are built through watercolor and smokebomb combination, and the artist worked on them first. Characters seem as if they were emerging from the indistinguishable, vivid clouds, exuding much of their force, but still detaining just enough to make them appear tense and interesting.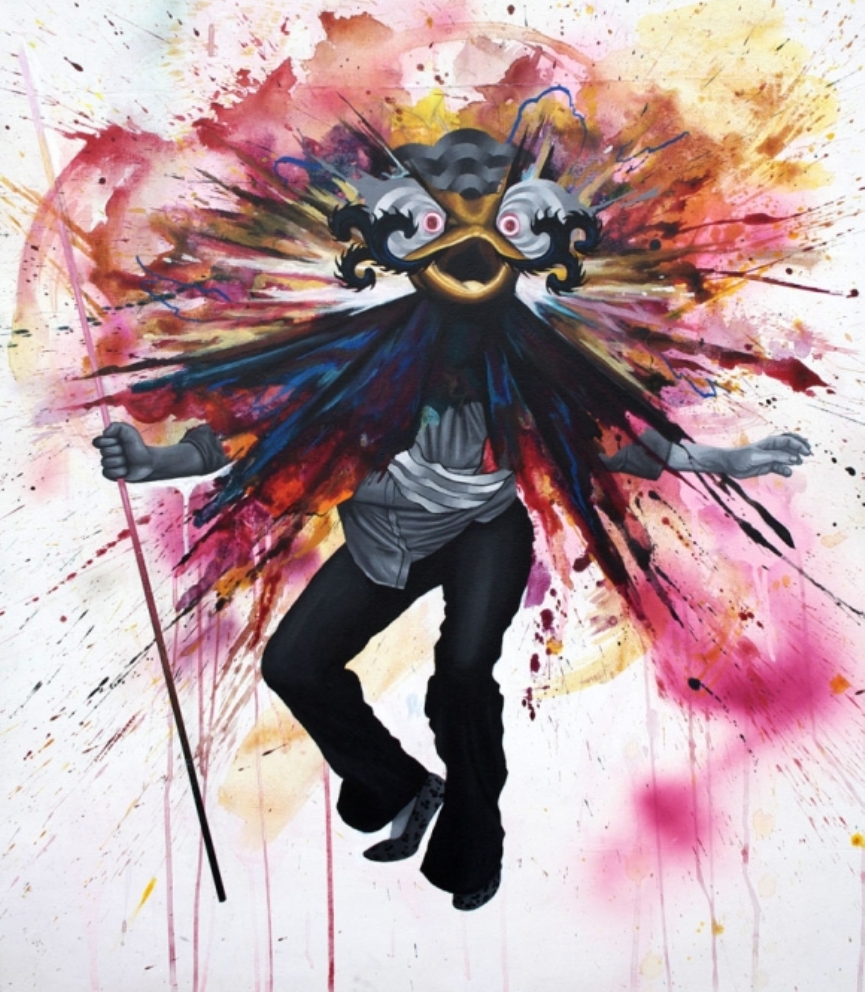 Zach Johnsen – Background
Zach Johnsen was born in 1978. He studied Communication Arts at the Massachusetts College of Art in Boston. His vibrant work has been exhibited throughout the country, and in Japan, Australia and Denmark as well. He lives and works in Portland, Oregon. The artist has previously exhibited at this Venice gallery, on a group show several years back.