INSIDE/OUTSIDE
Zosen and Mina are two visual artists based in Barcelona, one from Argentina and another from Japan, known for their colorful and vibrant free-form work and interdisciplinary approach to creative expression. They first began to work together in Barcelona, and after realizing that they share many formal and color aspects of the work, Zosen and Mina continued to collaborate in a series of murals worldwide. The vividness of their creations sets Zosen and Mina's work aside in the public spaces. Their vibrant compositions full of bright colors are real visual blasts.
The latest project by Zosen and Mina Hamada, a site-specific installation and exhibition named INSIDE/OUTSIDE is on show at B&B Gallery in Sheffield until April 26.
Artistic Repertoire
Besides inspiring murals, Zosen and Mina's artistic repertoire also includes paintings on canvas, public interventions, illustration, printmaking, animation, film, sculpture, collage, and handmade books. Just for the record, Zosen and Mina have produced a limited number of collaborate prints during their residency at B&B Gallery, titled Paradise Lost. It's a real 3-color hand-pulled screen print treat. Without a doubt, all 20 of them are probably already sold but it's worth checking with the B&B, just in case.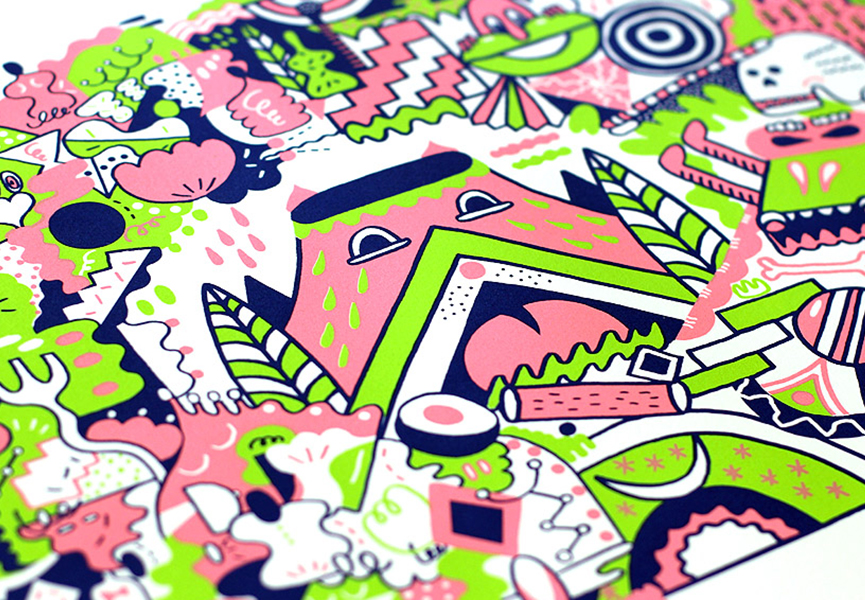 About B&B
B&B is a gallery, screen-print studio and residency program founded by curators and artists Bradbury & Blanchard. They promote the work of emerging and established contemporary artists through collaborative editions, periodic exhibitions and projects around the world.